Around the World in 80 Days
(2004)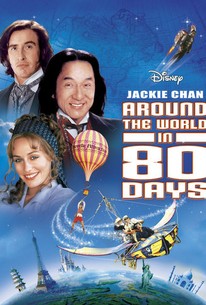 Around the World in 80 Days Photos
Movie Info
A tale that centers around three unlikely heroes as they attempt to settle an outrageous wager. An eccentric London inventor, Phileas Fogg, has come up with the secrets to flight, electricity, and even roller-blades, but the world has dismissed him as a crackpot. Desperate to be taken seriously, Fogg makes an outlandish bet with Lord Kelvin, the head of the Royal Academy of Science: to circumnavigate the globe in no more than 80 days! With his two sidekicks--Passé partout and femme fatale Monique--Fogg is headed on a frantic, heart-pounding round-the-world race that takes our heroes to the world's most exotic places by land, sea, and air. Along the way, our heroes face many adventures and obstacles from an all-star cast that land them in comedic predicaments, and exhilarating action.
Critic Reviews for Around the World in 80 Days
Audience Reviews for Around the World in 80 Days
[My predicted rating 2.5] I would never have chosen to watch this film and yet it did have a fair bit of entertainment value. There were some good effects throughout the film and of course some good Martial Arts choreography from Jackie Chan, in fact even the usually irritating Steve Coogan did a good job - a good adventure!
Lady D'arbanville
Super Reviewer
One of my all time favourite films. Really funny and I haven't seen the original but this has got to be one of the best remakes. Arnold's cameo is amazing!
Bethany Murphy
Super Reviewer
MisterYoda ?
Super Reviewer
Around the World in 80 Days Quotes
There are no approved quotes yet for this movie.