ARQ
(2016)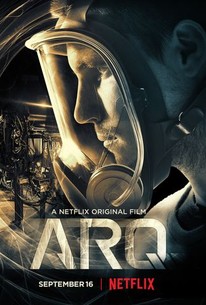 Movie Info
A young couple protecting a revolutionary new energy source are caught in a timeloop, where they relive a violent home invasion on repeat, forcing them into a race against time to break the loop and escape with the technology intact.
News & Interviews for ARQ
Audience Reviews for ARQ
First it was original TV shows, then documentaries, and now Netflix is making it's own feature films. ARQ is the companies first foray into science fiction and it hasn't gotten great reviews, due to the fact that it takes place in a time loop. I love science fiction and my favorite type of sci-fi is anything that features the manipulation of time, time travel, alternate history, time displacement, and yes, even time loops. In an apocalyptic futuristic world, Renton (Robbie Amell) has created a new form of energy, one that can possibly turn the tide and save the world. Renton wants to give this gift to all of humanity, but his former employer has other ideas and decides to steal the technology in a violent home invasion, where Renton is killed. After being killed, Renton reawakens starting his day all over again, with a complete memory of what happened. He soon discovers, the longer he lives, the more he learns, but will it be enough to figure out how to escape his current predicament, as well as the unusual time loop he seems to be caught in? Science Fiction fans love this type of film, because it gives us a chance to figure out things at the same time as the main character. It also gives us the chance to think about what we'd do in that situation and see if the character agrees or has some other wildly innovative idea that we didn't even think of. These films also tend to have a lot of noir type twists and turns and can be really thought provoking. The flip side of that, is that you can see some of the same scenes as many as ten times, and if you've never seen anything like this before and aren't a fan of the genre, it can be extremely confusing. That being said, I thought ARQ was exceptionally well written and done to near perfection, some of the twists just blew my mind. On a side note, as a fan of the film Saint Ralph, I was shocked to see Adam Butcher all grown up, playing a hired gun, I really got a kick out of that. ARQ isn't for general audiences, it is genre specific for fans of science fiction. If sci-fi isn't you thing, obviously you're not going to get it and you're not going to like it. If you are a fan, this was really well done, in particular the writing was fantastic, this film will keep guessing right up until the very end, which in and of itself was shocking.
Todd Smith
Super Reviewer
½
The kind of smart premise that should have been made into a short movie (or an episode of Black Mirror) but instead gets stretched for so long and with so much new information thrown in at every moment that plot holes pile up and become obvious once you start to think about it.
Carlos Magalhães
Super Reviewer
Interesting concept and intriguing ideas bring another twist on the whole Groundhog Day scenerio. Strong cast that does a lot with so little budget, this time wrap story moving at an incredible pace, you either go along for the ride or you don't.
Brendan O'Connor
Super Reviewer
ARQ Quotes
There are no approved quotes yet for this movie.