Arranged
(2007)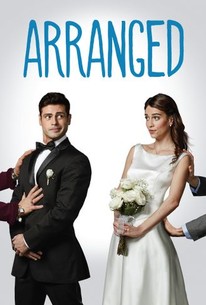 Movie Info
Two women whose peoples are often at odds find they're more alike than anyone expects in this drama from directors Stefan C. Schaefer and Diane Crespo. Rochel (Zoe Lister-Jones) and Nasira (Francis Benhamou) are two young women who have begun teaching at a public grade school in Brooklyn, NY. Rochel is an Orthodox Jew and Nasira is a Muslim of Pakistani descent, and the students and the administrators at the school are concerned there might be friction between the two teachers. However, over the course of their first year of teaching, Rochel and Nasira discover they have far more in common than they imagined -- both sometimes find themselves culturally out of place in 21st century New York, and both are trying to live within the traditions of their faith while struggling with their own feelings. In particular, Rochel and Nasira bond over the fact both are expected to enter into arranged marriages, Nasira with a wary optimism and Rochel with a great deal of trepidation. Arranged was screened in competition at the 2007 South by Southwest Film Festival. ~ Mark Deming, Rovi
Critic Reviews for Arranged
Audience Reviews for Arranged
This is simply an amazing film about the problems facing women in more conservative religions in diverse societies, and their ability to find friendship and love even in the conditions of their culture. This film really serves to educate those who question these cultures, and shows that women have clear choices in their lives. The characters are indelible, free spirited, and feisty, while also retaining their religious inclinations, and that so rarely gets clearly depicted in films nowadays. Though the friendship forged between Hasidic Jew Rochel (Lister-Jones) and Muslim Nasira (Benhamou) may not seem contemporary, even in the world we currently live in, it's a very sweet story that shows that we're all simply people, and that love is not conditional. I highly recommend this for those who want to learn about certain religious groups, or just watch a film that centers on women and their relationships.
Spencer S.
Super Reviewer
½
Really enjoyed this sweet film, that delved into issues of race and religion. Great lesson, and great film.
Hogans Hero
Super Reviewer
½
"Arranged" introduces Rochel(Zoe Lister Jones), an orthodox Jew, and Nasira(Francis Benhamou), a Muslim who was born in Syria, sitting on separate sides of the teacher's lounge quietly eating their lunches, with a group of women loudly talking in between them. Rochel is a para educator, assigned to help Eddie(David Castro), a legally blind student in Nasira's class. The two women bond after the classroom explodes in a bout of ignorance(Eddie's surprised to hear there were ghettos in Europe. You have no idea.) and the resulting condescension by Principal Jacoby(Marcia Jean Kurtz). All of that is nothing compared to the stress of matchmaking that the new friends must deal with. "Arranged" brings sensitivity and grace to a situation many people would probably find draconian for a modern woman. The movie deftly respects Rochel and Nasira having the right to self-determination in choosing to not only live in tradition bound communities but also how to choose their husbands.(As Rochel asks, is the modern way any better?) It is interesting that the matchmaker emphasizes the potential husbands' economic prospects which while important in supporting a family is not everything. The women are not looking for perfection. They just want somebody they can share their lives with.(Teeth would also be nice.) So, as you can see, Rochel and Nasira are two modest women who have a lot in common, even if they are from different communities. Still, even this friendship is not without its detractors. Come on. It is not like they are going to marry each other...
Arranged Quotes
There are no approved quotes yet for this movie.