Arsenic and Old Lace
(1944)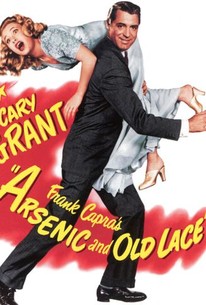 Arsenic and Old Lace Photos
Movie Info
Arsenic and Old Lace is director Frank Capra's spin on the classic Joseph Kesselring stage comedy, which concerns the sweet old Brewster sisters (Josephine Hull, Jean Adair), beloved in their genteel Brooklyn neighborhood for their many charitable acts. One charity which the ladies don't advertise is their ongoing effort to permit lonely bachelors to die with smiles on their faces--by serving said bachelors elderberry wine spiked with arsenic. When the sisters' drama-critic nephew Mortimer (Cary Grant) stumbles onto their secret, he is understandably put out--especially since he has just married the lovely Elaine Harper (Priscilla Lane). Given the homicidal tendencies of his aunts, the sinister activities of his escaped-convict older brother Jonathan (Raymond Massey) and the disruptive behavior of younger brother Teddy (John Alexander)--who is convinced that he's really Theodore Roosevelt, and runs around the house yelling "CHAAAAARGGGE"--Mortimer isn't keen on starting a family with his new bride. "Insanity runs in my family," he explains. "It practically gallops." Further complications ensue when the murderous Jonathan Brewster arrives home, with his snivelling accomplice Dr. Einstein (Peter Lorre) in tow. When Jonathan learns that his darling aunts have killed twelve men, he is incensed--they're challenging his own record of murders. Though the movie rights for Arsenic and Old Lace were set up so that the film could not be released until 1944, director Capra shot the film quickly and inexpensively in 1941, so that his family could subsist on his $100,000 salary while he was serving in World War II.
Critic Reviews for Arsenic and Old Lace
Audience Reviews for Arsenic and Old Lace
½
While this madcap drawing room comedy rests on the shoulders of the ever charming mr. Grant, who does more doubletakes here than in any other feature he may have done, there is actually quite a lot to be said for the obvious fun being had by the heavies, Raymond massey and peter lorre, who chew scenery with the best of them and look as if they're restraining themselves from outright giggling during their scenes together. Rightfully one of the best of this genre.
Kevin M. Williams
Super Reviewer
While the first half hour is exceptionally hilarious (with Cary Grant displaying a perfect comic timing there), this madcap dark comedy soon resorts to irritating, over-the-top mass hysteria, with everyone yelling around without rest, killing what made it so funny in the beginning.
Carlos Magalhães
Super Reviewer
Way too theatrical for my taste. I couldn't stand watching it anymore, so I turned it off after watching the first hour.
Arsenic and Old Lace Quotes
| | |
| --- | --- |
| "Teddy Roosevelt" Brewster: | [Mr. Witherspoon has just met Teddy and Teddy pulls Mortimer aside] Is he trying to move into the White House before I've moved out? |
| Mortimer Brewster: | Who? |
| "Teddy Roosevelt" Brewster: | [points to Mr. Witherspoon] Taft! |
| | |
| --- | --- |
| Dr. Einstein: | You shouldn't have killed him. Just because he know something about us, what happens? |
| Jonathan Brewster: | We come to him for help, and he tries to shake us down. Besides, he said I looked like Boris Karloff! |
| | |
| --- | --- |
| Mortimer Brewster: | [singing] There is a Happydale, far, far away... |
| | |
| --- | --- |
| Martha Brewster: | For a gallon of elderberry wine, I take one teaspoon full of arsenic, then add half a teaspoon full of strychnine, and then just a pinch of cyanide. |
| Mortimer Brewster: | Hmm. Should have quite a kick. |