Art School Confidential
(2006)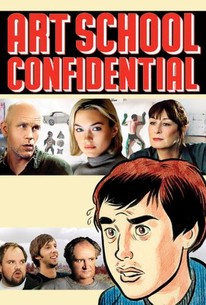 TOMATOMETER
AUDIENCE SCORE
Critic Consensus: Art School's misanthropy is too sour, its targets too flat and cliched, and Clowes and Zwigoff stumble when trying to build a story around the premise.
Art School Confidential Photos
Movie Info
"Art School Confidential" follows Jerome, an art student who dreams of becoming the greatest artist in the world. Arriving as a freshman at a prestigious East Coast art school, filled with every artsy "type" there is, Jerome quickly discovers his affected style and arrogance won't get him very far. When he sees that a clueless jock is attracting the glory rightfully due him, he hatches an all-or-nothing plan to hit it big in the art world and win the heart of the most beautiful girl in the school.
News & Interviews for Art School Confidential
Critic Reviews for Art School Confidential
Audience Reviews for Art School Confidential
Man, I wanted to like this skewering of the exploiters who claim to teach art, but the filmmakers didn't trust their own instincts enough, their own vision ... and so added some lame-o bit about a murderer on campus to "liven things up". Too bad. Nonetheless, their are some good performances, particularly Jim Broadbent as the undiscovered artist gestating in murky void, and Sophia Myles as "the muse" (what else?).
Kevin M. Williams
Super Reviewer
Art School Confidential is a film that is universally panned by many, and appreciated by a small number. The ones who think it's highly aggravating are usually let down by the fact that this was the second collaboration between Terry Zwigoff and Daniel Clowes, who first made the film Ghost World based off Clowes' graphic novel of the same name. Ghost World was disturbing, dark, funny, and full of realism. Art School is much more of a strange commentary on the pretension of art school students. I did like the paradox of what good art is, compared to the fact that good artists are the ones people pay to see. It was a good, insightful look into the politics of the art world, and the tension of the art student, who's only survival is fame, and fame at any cost. I was personally very disappointed at the brand of humor and the lack of follow through on character development. Yes, there are eccentricities, and kookiness to spare, but it is at the expense of the plot and the chemistry between the leads that we must suffer the general annoyances of our main character. I didn't especially hate the main character as many other viewers have in the past, because he's not meant to be personable or empathetic as our protagonist. His fate at the end of the movie is completely believable, even if understandable early in the film. The film has the humor, sexual tension, and lacking characters of the regular slew of indie comedies that sit in the comedy category of the Netflix Instant. There isn't anything new to take away from it, except perhaps a better understanding and appreciation for art and artists, and maybe it will warm your heart to know that this is a love story of sorts. Well, really it's more about obsession and women who would rather be immortalized in paint rather than be a great artist's muse or great love. It's an overly ambitious yet lacking film, and I found it entertaining if not oddly put together.
Spencer S.
Super Reviewer
Cast: Max Minghella, Sophia Myles, Matt Keeslar, John Malkovich, Jim Broadbent, Anjelica Huston, Joel David Moore, Scoot McNairy, Ethan Suplee, Nick Swardson, Adam Scott, Jack Ong, Jeremy Guskin, Monika Ramnath, Isaac Laskin Director: Terry Zwigoff Summary: When his pure genius goes ignored and a brainless jock tempts his dream girl (Sophia Myles), ambitious art school student Jerome Platz (Max Minghella) sets in motion a brazen plan to become an art world hero and win his beloved's heart. John Malkovich, Jim Broadbent, Matt Keeslar, Anjelica Huston and Ethan Suplee co-star in Terry Zwigoff's dark comedy about an overachiever who goes to extremes to get the girl. My Thoughts: "I saw the trailer and was fooled into thinking this was going to be a quirky film with dark humor. Unfortunately all the humor is shown in the trailer and still there isn't nearly enough. I soon became bored with the film and I thought the main character Jerome was annoying and not likable. I love John Malkovich, Steve Buscemi, and I also enjoy Jim Broadbent, but their parts are small and not used nearly enough. The big twist is seen a mile ahead and the ending is how you expect it to end. Definitely something I wouldn't watch again."
♥˩ƳИИ ƜѲѲƉƧ♥
Super Reviewer
Art School Confidential Quotes
There are no approved quotes yet for this movie.