Arthur
(2011)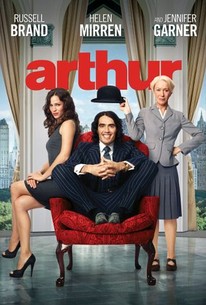 TOMATOMETER
AUDIENCE SCORE
Critic Consensus: An irritating, unnecessary remake that demonstrates the libertine charm Russell Brand exudes in supporting roles turn against him when he's star of the show.
Movie Info
In this fresh new look at a classic story, Russell Brand reinvents the role of loveable billionaire Arthur Bach, an irresponsible charmer who has always relied on two things to get by: his limitless fortune and the good sense of his lifelong nanny and best friend Hobson (Helen Mirren), to keep him out of trouble. Kind-hearted, fun-loving, and utterly without purpose, Arthur spends every day in the heedless pursuit of amusement. But when his unpredictable public image threatens the staid reputation of the family foundation, Bach Worldwide, he is given an ultimatum: marry the beautiful but decidedly unlovable Susan Johnson (Jennifer Garner), an ambitious corporate exec who can keep him in line, or say goodbye to his billion-dollar inheritance and the only way of life he knows. It's a deal Arthur would be inclined to take...if he hadn't just fallen for Naomi (Greta Gerwig), a New York City tour guide who shares his idealism and spontaneity. The independent Naomi sees Arthur not only for who he is, but for who he could be, and finally gives him a reason to take charge of his own life. All he needs to do is stand up for what he wants. But at what cost? With some unconventional help from Hobson--the one person who always believed he could do anything--Arthur will take the most expensive risk of his life and learn what it means to become a man. -- (C) Warner Bros
News & Interviews for Arthur
Critic Reviews for Arthur
Audience Reviews for Arthur
½
I think that this is just as good, if not better than the original. I'm sure a lot of people will just hate this by default because it's a remake, but anyone who gives it a fair chance will have a hard time finding it anything but fun. I guess you have to enjoy Russell Brand in order to find it as funny as I did, but I think this role was perfect for him. Everything about Arthur and his larger than life personality is so easy to accept when it's so well acted. Nearly every joke he makes is hilarious and the whole concept is something that never seems to get old. I think all of the characters are great and a step up from their originals. Helen Mirren is amazing as Hobson and I honestly don't think anyone could play that character better. I also think Greta Gerwig was perfect too; she just has a quality about her that is totally unique and lovable. While this is a remake in terms of structure and basic plot, it's completely different in terms of the comedy and general atmosphere. Some of the little things like Frog and Toad, Batman Forevermobile, and the Gummi Bear suit are what make it so much more fun to me. As a heartwarming comedy, you can't get better than this. It gives you exactly what you need and there's nothing cheap or corny about it. No one should feel bad about liking Arthur because it's just so good at what it wants to be.
Conner Rainwater
Super Reviewer
This is one i put off watching for a long time because it seemed like such a steaming pile. Saw it on free to air TV recently. Certainly wouldn't have paid for it. So, was it as bad as I expected? Well,yes and no. The main problem with this is Russell Brand. He is meant to be an alcoholic. He just comes off here as mentally challenged. The female leads pretty much save this. Greta Gerwig and Helen Mirren. I like Jennifer Garner generally. I have to say, this isn't a great role for her either. She does much better with girl next door roles than bitchy ones. There's a few smiles here (I wouldn't say laughs exactly), and some of it is sweet. It's certainly not as awful as I expected. I liked the date at the train station, for example and the ending is quite romantic (or could have been if the guy was anyone other than Brand).
Nicki Marie
Super Reviewer
Ok. My guilty obsession...Russell Brand. He is just sooo funny to me, and rather charming, in a way. He does a lot of great ad-libbing, as usual. Helen Mirren does a really touching job as his nanny. Good music by Death Cab, great comic timing by all involved, and very sincere performances. Not actually a copy of the original. More of a revamping. I enjoyed this..a lot.
Cynthia S.
Super Reviewer
Arthur Quotes
| | |
| --- | --- |
| Arthur: | Oh hello Vivienne! I remember you from when I used to live in your whomb! |
| | |
| --- | --- |
| Susan: | ( Kisses Arthur ) |
| Susan: | [kisses Arthur] |
| Arthur: | What was that?! |
| Susan: | A french kiss... |
| Arthur: | You sure? The french always surrender! That was decidedly German |
| Arthur: | You sure? The french always surrender! That was decidedly German. |
| | |
| --- | --- |
| Arthur: | Vivienne! Susienne! Satan! Susan! |