Article 99
(1992)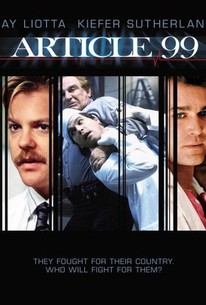 Movie Info
This film's title refers to a fictional legal loophole which states that American veterans cannot be treated in VA hospitals unless their illnesses are related to military service. The pinchpenny administrator of a Kansas City hospital intends to follow this proviso, while his irreverent staff tries to circumvent the rules.
Critic Reviews for Article 99
Audience Reviews for Article 99
½
Wasnt bad, I thought it would be alot better considering the cast. Loved when Keifer donned the floppy hat as his father did in M.A.S.H
½
A very entertaining film about the innovative means by which doctors in a veterans hospital try and actually help the patients,while being thwarted by bureaucratic red tape at every turn.
Audrey Lush
Super Reviewer
If you haven't seen this movie then I recommend it, kinda like a modern day M*A*S*H, but instead of a far off distant country the war is right here at home, as a group of doctors have to break every rule in the book to defeat a corrupt system and get America's war veterans the treatment they deserve.
Jason Reneau
Super Reviewer
Article 99 Quotes
| | |
| --- | --- |
| Dr. Peter Morgan: | Why doctors have to steal medical supplies from their own damn hospital so that they can keep their patients alive. I think the TV networks really should take a look at this. |
| | |
| --- | --- |
| Dr. Henry Dreyfoos: | We're not responsible for every lunatic out there, just because he once wore a uniform. |
| | |
| --- | --- |
| Dr. Richard Sturgess: | The administrations only concerned with saving a buck. Any more cuts and we're going to be operating out on the street. |
| | |
| --- | --- |
| Dr. Richard Sturgess: | If you want to shoot someone, shoot one of those big wigs upstairs. |