As Good as It Gets
(1997)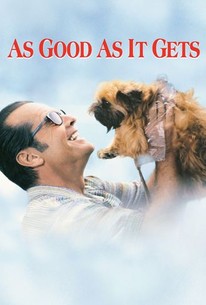 TOMATOMETER
AUDIENCE SCORE
Critic Consensus: James L. Brooks and Jack Nicholson, doing what they do best, combine smart dialogue and flawless acting to squeeze fresh entertainment value out of the romantic-comedy genre.
As Good as It Gets Videos
As Good as It Gets Photos
Movie Info
Jack Nicholson is hilariously funny as a compulsive-obsessive, homophobic romance novelist who is compelled by circumstances to get to know his gay neighbor (Greg Kinnear) and the waitress who puts up with NicholsonÕs abuse over breakfast every morning.
Critic Reviews for As Good as It Gets
Audience Reviews for As Good as It Gets
½
Brace yourself for Melvin. Great Film! Everything is good and warm in this movie, everything is fresh and vivacious, understandable and well performed. Jack Nicholson brings one of the best performances of his career, that terrific Helen Hunt finally got a chance to show how skilfully an actor can connect naturalism with the laws of the camera performance, and Greg Kinnear shows the most convincing emotions coming from a gay character I've ever seen. The relationships between the characters are created in the way that you can't predict anything that's going to happen, eventhough you know in advance what could come out of their mouth and what kind of attitude they'll have in a certain situation. You can simply feel the progressive collaboration that occurred between Brooks and the actors and the mutual understanding they developed, and it's not often that you see that kind of artistic superstructure shining on the screen so much as it does here. Overall this is a sentimental romantic comedy that is typical for the genre. The story wanders to it's point but the good cast, led by a great Nicholson, hold the whole thing together. A superior piece of sentimentality. Go see it! New York City. Melvin Udall, a cranky, bigoted, obsessive-compulsive writer, finds his life turned upside down when neighboring gay artist Simon is hospitalized and his dog is entrusted to Melvin. In addition, Carol, the only waitress who will tolerate him, must leave work to care for her sick son, making it impossible for Melvin to eat breakfast.
½
Great characters, excellent acting, and lots of humor and pathos highlight this charming and heartwarming human dramedy/romance story about damaged people struggling for hope, help, and love. While not everyone can relate to the specifics of the characters, the general issues they deal with are realistically portrayed, believable, and understandable. This is great stuff. Jack and Helen definitely deserved their Oscars for their work here, but I think Kinnear got robbed. He's also terrific. Even the little dog is very cute and memorable. All in all, the film is a very touching and well done piece, but, because it does hit a lot of uncomfortable moments, it can be one that's tough to get through at times. However, there's a fair amount of humor, and, while some of it is mean-spirited, it's definitely memorable, and there's plenty of lines, funny and otherwise, that are quite quotable.
Chris Weber
Super Reviewer
½
The plot is forced, but Nicholson as Melvin is so sharp and captivating. The film creates an original Ebeneezer Scrooge with a piercing wit aimed to tear down whoever he crosses. Perhaps he is maintaining social walls to ensure that his severe obsessive-compulsive disorder is well stroked, securing his meticulously-set routine from interruptions. They say a way to get over your bad habits is to find better habits that you enjoy even more... Well hello, Helen Hunt!
Matthew Slaven
Super Reviewer
As Good as It Gets Quotes
| | |
| --- | --- |
| Melvin Udall: | People who talk in metaphors oughta shampoo my crotch. |
| | |
| --- | --- |
| Melvin Udall: | Some of us have great stories, pretty stories that take place at lakes, with boats, and friends, and noodle salad. Just no one in this car. But, a lot of people, that's their story; good times, noodle salad. What makes it so hard is not that you had it bad, but that you're that pissed that so many others had it good. |
| | |
| --- | --- |
| Melvin Udall: | Well, I work all the time. So never interrupt me. Not if there's a fire. Not even if you hear the sound of a thud coming from my home and a week later, there's a smell that can only be a decaying human body and you have to put a hanky up to your nose because the smell is so bad, you think you're gonna faint. Even then don't come knocking. Or, if it's election night, and you're excited and you wanna celebrate because some fudge packer you date has become the first queer president of the United States and he's going to have you down to Camp David, and you want someone to share the moment with. Even then, don't knock, not on this door. Not for any reason. Do you get me, sweetheart? |
| | |
| --- | --- |
| Melvin Udall: | I had to see you. |
| Carol Connelly: | Because? |
| Melvin Udall: | It relaxes me. I'd feel better sitting outside your apartment on the curb than any other place I can think of or imagine. |