Assassination Games
(2011)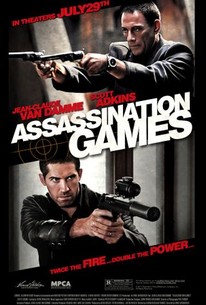 AUDIENCE SCORE
Critic Consensus: No consensus yet.
Assassination Games Photos
Movie Info
Brazil (Jean-Claude Van Damme) is a contract killer, willing to take any job if the price is right. Flint (Scott Adkins) left the assassin game when a ruthless drug dealer's brutal attack left his wife in a coma. When a contract is put out on the same coldblooded drug dealer, both Brazil and Flint want him dead - one for the money, the other for revenge. With crooked Interpol agents and vicious members of the criminal underworld hot on their trail, these two assassins reluctantly join forces to quickly take out their target before they themselves are terminated. -- (C) Official Site
Critic Reviews for Assassination Games
All Critics (3) | Top Critics (1) | Fresh (0) | Rotten (3)
A direct-to-video-quality actioner distinguished primarily by its star's blatantly deteriorated martial-arts prowess.

As the star of Assassination Games, Jean-Claude Van Damme makes a lot of great decisions. As the executive producer, he appears to have made fewer.
August 26, 2011 | Rating: 2.5/5
Assassination Games doesn't fully exploit -- in, say, the manner in which Sylvester Stallone's Rocky Balboa did -- the age and earned maturity of its leading man.
Audience Reviews for Assassination Games
½
This explosive action flick hits the bulls-eye, anybody who loves action movies should see this movie. I absolutely loved it. An exhilarating and adrenaline-charged action-packed edge of your seat thriller. A strong, compelling, gripping and emotionally engaging movie. A pure knockout. A wickedly cool and tremendously awesome ride with a strong story and great characters. It`s sharp, smart, funny and packed with heart-stopping thrills from start to finish. An explosively entertaining film with a traditional western style feel to it, it feels like a modern-day and highly stylized version of For A Few Dollars More. Scott Adkins and Jean-Claude Van Damme are at their best, these two sensational action stars pack great physical skill and intense star power. Van Damme gives a great and gritty performance, as he gets older the more compelling he is to watch. Adkins is riveting, he truly is one of the most gifted action stars of his generation and also just a gifted actor. Adkins and Van Damme have great chemistry that shows with great character development.
½
It's been a very LONG time that I have seen Jean Claude Van Damme involved in an action flick that I have truly enjoyed watching. As an assassin (Van Damme) Brazil is a willing participant in a killing only if the price is right. Another assassin (Scott Adkins) Flint has left the hit man game only to consider returning after a criminal that was involved in his wife's brutal attack has been released from incarceration.SO on two ends of the scale of taking out one ruthless crime lord, you have an assassin willing to kill if the price is right and another willing to kill for revenge. Sitting and watching how this eventually turned out is a truly a treat for your "cinematic senses". It is a movie worth seeing...with lots of surprises!
Fascade Fiveoneeight
Super Reviewer
½
Do we need to say guns, blood, explosions again? What if we try this: the art direction if flawless. And the bodycount is Awe-sum!!! I really like Jean-Claude Van Damme and Scott Adkin's chemistry together. This is well directed and shot. One is fighting to assassinate his target because of love, fighting to try and bring justice for his wife. The second is the opposite. Everything thing is about work, and he is just doing a job. Vincent (Van Damme) becomes more open to love throughout the film, as you see the change from the start to the end, and that was a good believable story. Can't wait to see Van Damme and Adkin reunite again (at the third time) in the upcoming 2012 movie, The Expendables 2.
Dean McKenna
Super Reviewer
Assassination Games Quotes
There are no approved quotes yet for this movie.