Assassination Nation
(2018)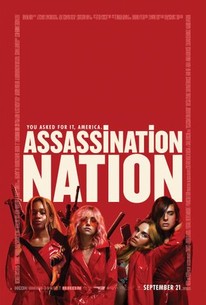 TOMATOMETER
AUDIENCE SCORE
Critic Consensus: Assassination Nation juggles exploitation and socially aware elements with mixed results, but genre fans may find it too stylish and viscerally energetic to ignore.
Assassination Nation Videos
Assassination Nation Photos
Movie Info
High school senior Lily and her group of friends live in a haze of texts, posts, selfies and chats just like the rest of the world. So, when an anonymous hacker starts posting details from the private lives of everyone in their small town, the result is absolute madness leaving Lily and her friends questioning whether they'll live through the night.
News & Interviews for Assassination Nation
Critic Reviews for Assassination Nation
Audience Reviews for Assassination Nation
½
Bit of an odd one, good odd. The sort of thing that'd usually earn all of its points out of pure catharsis, but is to confronting to be any way actually cathartic, and hits the message over and over again instead, which normally I hate, but Assassination Nation works because of the hate. It's a very hateful movie, with just a sliver of what you might have expected it would be like based on the trailer right at the very end, but otherwise, grim. In a good way though. A way that works, makes you think, but still has all #TheAesthetic⢠you can shake a stick at, it just makes you feel bad for shaking that stick. Do you like The Purge but feel that the mirror it holds up is too general? Wanna feel bad about feeling good? Give Assassination Nation a crack.
Within the first fifteen minutes or so I thought I was really going to hate this movie. The falseness of it all felt so glaring. It was trying to be something it didn't naturally know how to pull off in the worst way. Once we get past the rather scrutinizing character introductions though, the movie levels up and becomes what it is without that aspect of attempting to be something it's not. Assassination Nation is an extreme satire, but it's a rather effective one. It's a film that will either grow better or worse with age, but my guess is this might be a pretty trippy to experience in ten to fifteen years. Yeah, this super-stylized take on the coming-of-age tale through the lens of our presently overexposed culture would have probably worked better as a limited series or something given the movie already feels like the core characters essentially walk through a handful of different vignettes which in turn means the movie begins to feel like it's dragging in that latter half, but it goes out with such a bang it's hard to argue one didn't have a blast. Side note: How does Pretty Little Liar's little Mike Montgomery now look like Zac Efron?!?!
Philip Price
Super Reviewer
½
Arthouse exploitation films have to ride a fine line in order to achieve success. And the truth is most examples of the genre alienate both the audiences who pay for sleezy midnight movies and the critics and cinephiles who stick to meatier pictures. Such is the case with Assassination Nation, an exploitation film with overt leftist and feminist leanings. When a hacker leaks the personal lives of a group of teenage girls living in Salem, Massachusetts onto the internet, the town goes on a slut-shaming witch hunt (SEE that they did there?), ostracizing them from society. Alt-right style militias form and take over the town, while the girls arm themselves and engage in revenge killings, and then open warfare erupts on the streets. It's hard not to compare Assassination Nation to Spring Breakers, another female-oriented arthouse exploitation film. But as where Breakers centered around shallow hedonists who engaged in violence, Nation centers around typical women engaging in violence, because they are labeled hedonists. The color palette is fairly vivid and reminiscent of Nicolas Winding Refn (think Drive and The Neon Demon). There have been complaints that many of the characters are thinly sketched. While I would have preferred a bit more characterization, for the most part they are more than adequate and quite interesting. The protagonist is played by Odessa Young and she conveys a complex teenager convincingly. Transgender actress Hari Nef has the most lively role in the picture and has to ride the line between a sympathetic victim and an amusing shit-talker. It's hard not to see that Assassination Nation is a film about Trump's America, the internet-based Alt-Right, and what that means for feminism and women in general. It is a tad bit over-the-top but that's a result of the heightened reality nature of the genre. Many may be turned off by the abrupt and somewhat flat ending, feeling that it's a bit anti-climactic. For once I have to agree with them. It does take a bit off the selling point of the movie, but as the proceeding 90% of the film was exceptional, I'll still recommend it to patient viewers who can stomach a fair bit of violence.
Joshua Sheetz
Super Reviewer
Assassination Nation Quotes
There are no approved quotes yet for this movie.