The Assassination of Jesse James by the Coward Robert Ford
(2007)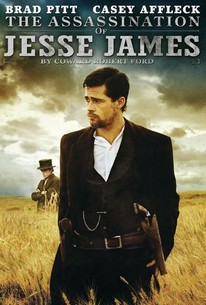 TOMATOMETER
AUDIENCE SCORE
Critic Consensus: On the strength of its two lead performances Assassination is an expertly crafted period piece, and an insightful look at one of the enduring figures of American lore.
The Assassination of Jesse James by the Coward Robert Ford Photos
Movie Info
In 1881 a younger member of the notorious James gang becomes so inextricably drawn to and frightened of his mentor that his own delusions of grandeur force him to consider doing the unthinkable.
News & Interviews for The Assassination of Jesse James by the Coward Robert Ford
Critic Reviews for The Assassination of Jesse James by the Coward Robert Ford
Audience Reviews for The Assassination of Jesse James by the Coward Robert Ford
Meticulously made, with some beautiful images, but far too long and far too languidly paced.
½
It's long, it's slow, and I loved it. The cinematography practically speaks for itself, telling a story that we all know from the villain's perspective and bringing the psychology of the event and the characters to life.
Daniel Perry
Super Reviewer
½
This is quite a fascinating take on such a revered legend and the final months of his life. Less of a violent shoot 'em up, and more of a somber, introspective portrait, this film is a fascinating study of friendship, betrayal, hero worship, and surprising reactions to a perceived act of greatness. There are some undeniable undertones of homosexuality throughout the film, but rather than be expressed through physical love, they are expressed through tortured, creepy obsessions that can't come to any conclusion but a dark and tragic one. Before I provide further praise, a few criticisms. I'm okay with long films with rather slow pacing, but I felt the middle should have been tightened up more, and have the final half hour drawn out more. As for the final scene, I'd rather have seen it than heard narration. The rest of the narration was hit or miss for me. I liked the music, but I wish it were more varied. More screen time for Zooey Deschanel would also have been nice, as would have been a few more (no more than 3) small scenes of violence, or one big set piece of it. As much as I enjoyed the direction (despite the above issues), the cinematography by Roger Deakins is the real star of the show here. Some of the shots and compositions on display are so beautiful I can't really do them justice. The cast is great, even if some of the actors have little screen time. Despite screen time amounts, all performers are excellent, especially Pitt and Affleck. Renner and Rockwell are closely tied behind them for the best acting. About Pitt and Affleck: it's a toss-up for who's more impressive. Pitt, on one hand has to portray someone younger than his actual age, pull it off, and also downplay his ego and status as an A-lister. It works to his favor. Affleck on the other hand, much like the character, has to step out of the role of "the young one" and come into his own. Ford is a tough role because it would be so easy to over do it. His Oscar nomination is proof he succeeded. This was my first exposure to director Andrew Dominik, and he has impressed me. At first it seemed like this was a Terrence Malick film, and I mean that as a compliment, but also as a way of saying what you should expect should you decide to see this (and you should). This is a great film, but definitely not for all audiences. It's a scholar's dream too, as there is plenty of stuff to pore over, analyze, and discuss. If you've come this far in my review, then you'll probably know if this is one for you.
Chris Weber
Super Reviewer
The Assassination of Jesse James by the Coward Robert Ford Quotes
| | |
| --- | --- |
| Narrator: | By his own approximation, Bob assassinated Jesse James over 800 times. |
| | |
| --- | --- |
| Narrator: | By his own approximation, Bob assassinated Jesse James over 800 times. He suspected no one in history had ever so often or so publicly recapitulated an act of betrayal. |
| | |
| --- | --- |
| Jesse James: | I guess i will take my guns off, i fear the neighbors might spy them. |
| Jesse James: | I guess I'll take my guns off... for fear the neighbors might spy them. |
| | |
| --- | --- |
| Robert Ford: | You know what I expected? Applause. I was only 20 years old then. I couldn't see how it would look to people. I was surprised by what happened. They didn't applaud. |