The Assassination of Richard Nixon
(2004)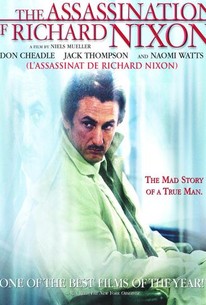 TOMATOMETER
AUDIENCE SCORE
Critic Consensus: The Assassination of Richard Nixon struggles to convey deeper meaning, but a fascinating true story and compelling Sean Penn performance are worthy compensations.
The Assassination of Richard Nixon Photos
Movie Info
The true story of a man who, on February 22, 1974, was thwarted from an ambitious plan for political assassination provides the basis for this striking psychological drama. Sam Bicke (Sean Penn) is a salesman for an office-supply company whose life is slowly beginning to unravel. Bicke's job is going nowhere, his wife, Marie (Naomi Watts), has left him, and his boss (Jack Thompson) keeps pushing self-help books on him that make a mockery of his state of mind. One of Bicke's few friends is Bonny Simmons (Don Cheadle), an auto mechanic, and together they come up with an idea for a tire shop on wheels; while neither has the money to finance the project, Bicke has learned of a program for small-business loans instituted by President Richard Nixon, which he's certain will come through for him. But Bicke is denied his loan, which dovetails with his increasing suspicion of the president's Vietnam policies and a sudden interest in the "by any means necessary" political activism of the Black Panther Party. Desperate to seem important in some way, Bicke becomes increasingly obsessed with the duplicity of Richard Nixon, until he chooses to take it upon himself to stop the president once and for all. The Assassination of Richard Nixon was the first feature film from director Niels Mueller.
News & Interviews for The Assassination of Richard Nixon
Critic Reviews for The Assassination of Richard Nixon
Audience Reviews for The Assassination of Richard Nixon
The Assassination of Richard Nixon has everything you could hope for in a quality film. An engaging story full of interesting characters, great acting, score and all that jazz, a great piece of work. The film is set in the 1970s and revolves around it's central character, Sam Bick, a man who can't hold down a job, and has problems connecting with people socially. The film follows Sam on his unrelenting course of bad luck that will eventually prove to be too much for him to take. Compared by many to Taxi Driver, the film perhaps has more in common with Falling Down, Sam always complains about being held down by "the system" and how "the little man" is mistreated and such, the film does very well with this topic, leaving it open as to whether Sam is letting it get to him too much, or if he really is being mistreated, certainly different viewpoints and multiple viewings could generate many different views on the film. Sean Penn as usual is an acting tour de force, I've often criticised him privately for taking what I'd called "Gunning for Ocsars roles" a role that involves a mental breakdown or a disability or suchlike covered in a dramatic manner, that usually guarantees an Oscar nomination. An actor solely concerned with winning trophies, I do sometimes wish he'd take a few more risks rather than sticking to the "oscar" formula. He could be accused of that again here, but to be honest, whatever his intentions with making such a film, if he puts in a good performance there can be no complaints, and here he is exceptional, never going over the top, it's easily one of his best performances and certainly, the character of Sam Bicke is one that any actor would relish and provides good subject matter for a very good film. 4 Stars 9-29-13
Bruce Bruce
Super Reviewer
Not an "entertaining" film to watch here, but Sean Penn's performance as a soul drowning in an avalanche of setbacks is as definite as the sound of a gunshot ... and as clearly recognizable. The rest of the cast compliments the drowning absolutely with apt portrayals of "please God, don't let it be me". Difficult to watch, as I said. Very true.
Kevin M. Williams
Super Reviewer
½
"I am but a grain of sand. The meek shall not inherit the earth. The earth belongs to the bullies who do not care how they get to the top."
A film
inspired
by a true story about the life of an ordinary man who plotted to kill Nixon.
Another one of those sad stories of a person channeling his lifes frustration and dissillusionment from the government and the country he loves, to a specific individual.
Sean Penns acting is always something to see, the script was moderately smart, but I guess this just isnt my cup of tea.
It just felt flat out, dreary and dry. I was waiting for a the big breakthrough in the pacing of the film but no big drama ever came out of it, it never happened, and Im left hangging. I never even cried throughout the movie!
Seriously not recommended.
If you want to see Sean Penn in a tear jerking drama you're better off watching
I am Sam
.
Genre: Biography, Crime & Drama
Director: Niels Mueller
Rated R
The Assassination of Richard Nixon Quotes
There are no approved quotes yet for this movie.