The Assassination of Trotsky
(1972)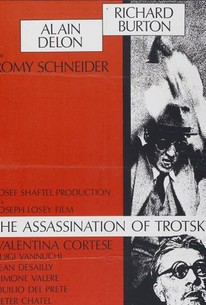 AUDIENCE SCORE
Critic Consensus: No consensus yet.
Movie Info
This film is Joseph Losey's mood piece that delves into the psychological makeup of Frank Jackson (Alain Delon), the assassin of exiled Russian Communist leader Leon Trotsky (Richard Burton). The tale chronicles the final few months of Trotsky's life, from the May 1940 raid upon Trotsky's Mexican compound until August of that year when Jackson's assassination attempt succeeded. Much of the film details how the shy and mysterious Jackson gained access to the compound through ingratiating himself with family friend Sylvia Ageloff (Romy Schneider). The reclusive Trotsky, seeing a part of himself in Jackson, begins to warm up to him, never realizing that Jackson will be the man to finally kill him.
Critic Reviews for The Assassination of Trotsky
All Critics (2) | Fresh (1) | Rotten (1) | DVD (1)
After watching Trotsky's death, his wife's tears, the assassin's questioning, and the girl's hysterics, the viewer is almost left with a feeling of "So what?"
The Assassination Of Trotsky is a superb film that debunks the romanticism of political violence.
Audience Reviews for The Assassination of Trotsky
½
[font=Century Gothic]"The Assassination of Trotsky" is an interesting near-miss of a movie about the last days of former Russian revolutaionary Leon Trotsky(a very fine performance by Richard Burton) in exile in Mexico City in 1940. It may get the facts straight but it does not go far below the surface in depicting the time and place or the characters who with the exception of the Americans are in exile because of war and/or fascism.(I was disappointed that director Joseph Losey did not have any special insight here since he was blacklisted in the 1950's and forced to find work overseas.) A couple of scenes stand out, especially the bullfighting, but this is a wasted opportunity to explore the nature of revolutionary violence and how that can turn out to be a double-edged sword.[/font]
The Assassination of Trotsky Quotes
There are no approved quotes yet for this movie.