Assassins
(1995)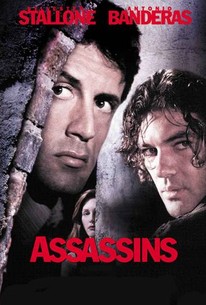 Movie Info
Sylvester Stallone headlines this high-tech action-adventure and plays a ruthless hit man who finds himself stalked by a younger rival. The older assassin, Robert Rath, cannot shake the painful memory of an earlier hit and wants to leave his dirty business after he completes his final assignment for a mysterious boss. He meets his crazy rival, the fearless Miguel Bain while attempting to assassinate an old fellow at a funeral. Bain beats him to it and then makes a ballsy escape in which he ends up in a stolen taxi driven by Rath. It is here that the two become mortal enemies. Later, Rath is given one last assignment: he must kill a female surveillance officer and steal an important disc before she has a chance to sell it. When he discovers that Bain is on the same assignment, the two begin a deadly competition in a large Seattle hotel. Eventually, Rath ends up kidnapping the officer Electra and her large ever-present cat. When he finally meets up with Bain, a terrible struggle ensues and suddenly Rath realizes that the whole scene is a set up. Rath then heads for San Juan, Puerto Rico where residents celebrate the Day of the Dead. Amidst the festivities, the two play a deadly cat-and-mouse game.
News & Interviews for Assassins
Critic Reviews for Assassins
Audience Reviews for Assassins
EightThirty .
Super Reviewer
An explosive and pulse-pounding edge of your seat action-packed thriller. It packs a full-clip of riveting suspense and fast-paced action from start to finish. It`s smart, tense, terrific and energetic. A wickedly cool and exhilerating assassin-thriller with well-drawn characters and swift execution. Director, Richard Donner crafts one of his best films ever. Slyvester Stallone and Antonio Banderas are just pure dynamite. Stallone gives a strong and effective performance. Banderas gives a sensational and electrifying performance that shows a side of himself we havent seen before.
Devoid of substance and plausibility, but for the better part a decent action flick. Altough the action bits are really good, there's too many flaws to get past for me to rate it any higher. One such defect is the absence of intelligent dialogue. Or perhaps I should say dialogue altogether, as the characters almost spend more time talking to themselves than to eachother. None of them are particularily relatable either, and I didn't care much for who made it out alive by the end. I suppose Stallone's characters is meant to be some kind of anti-hero, but he is too stiff and emotionless for me to feel prompted to root for him. As for Antonio Banderas, well, he overplays his character so much that he often became a mere annoyance. The only saving grace in the cast is Julianne More, who at least gives a little effort in her acting. Anyhow, I couldn't help but draw parallels to Bangkok Dangerous, which is like a modern equivalent to this film, that suffers from similar plot problems. Gratefully, however, this isn't as bad. In conclusion: Fairly exciting, but nothing beyond the average.
Assassins Quotes
There are no approved quotes yet for this movie.