At Eternity's Gate
(2018)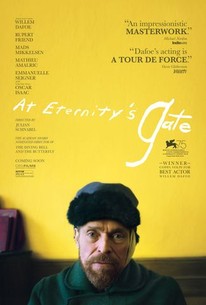 TOMATOMETER
AUDIENCE SCORE
Critic Consensus: Led by mesmerizing work from Willem Dafoe in the central role, At Eternity's Gate intriguingly imagines Vincent Van Gogh's troubled final days.
At Eternity's Gate Videos
At Eternity's Gate Photos
Movie Info
Academy Award (R) Nominee Julian Schnabel's At Eternity's Gate is a journey inside the world and mind of a person who, despite skepticism, ridicule and illness, created some of the world's most beloved and stunning works of art. This is not a forensic biography, but rather scenes based on Vincent van Gogh's (Academy Award (R) Nominee Willem Dafoe) letters, common agreement about events in his life that present as facts, hearsay, and moments that are just plain invented.
News & Interviews for At Eternity's Gate
Critic Reviews for At Eternity's Gate
Audience Reviews for At Eternity's Gate
I expected this to be a fairly straightforward docudrama on the life of van Gogh, but to my surprise it was a far more artistic and ethereal experience. For better and for worse. For the most part, this really works, and I really liked this approach to getting inside the mind of the troubled artist. Van Gogh in the film often talks about how he thinks the world is broken and he might be the only one who sees it right, so we see a very specific vision of the world from him and it creates a unique vision in the film that gives a unique style. However, there's times where this style goes a bit too far and gets a bit pretentious. Extended periods of weird audio loops of dialogue, or excessive shaky cam during quieter moments. I got what the intended effect was, but it was overkill and obnoxious. In general though, the vision works, and gives something more unique than a standard docudrama. I liked this unique look at a troubled artist. I also really liked seeing him have conversations with his peers about other artists and about his place in the art world as a new voice that seemed to mirror what modern artists of different forms say, but in a way that felt genuine and not hoky. It's a moody and unique film with a distinct vision. Not to mention Willem Dafoe gives it his all, when he puts on the overalls and the hat and walks through a field of flowers, he IS van Gogh. Sometimes the film is a bit much, but at least it's something. I liked it, more than I expected actually.
Michael Malan
Super Reviewer
Even as they do reflect the character's fragmented mind, the film's visual and stylistic excesses begin to feel like mere affectation after a while, but at least Willem Dafoe delivers a committed performance as a tormented artist who longs to understand his purpose in the world.
Carlos Magalhães
Super Reviewer
I get what At Eternity's Gate was going for, visually. But that thing was not a thing i enjoyed. The framing made me rather uncomfortable, which, again, kind of the point, but not for me. Massive props to Dafoe of course, his Oscar nomination for best actor is not uncalled for, and special extra props to Mads Mikkelsen, the sequence between the two of them was far and away my absolute favourite part of At Eternity's Gate. But so much of the rest of the thing is just nature shots accompanied by violently jarring piano, and I cannot call myself a fan.
At Eternity's Gate Quotes
There are no approved quotes yet for this movie.