Atonement
(2007)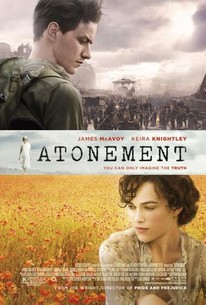 TOMATOMETER
AUDIENCE SCORE
Critic Consensus: Atonement features strong performances, brilliant cinematography, and a unique score. Featuring deft performances from James MacAvoy and Keira Knightley, it's a successful adaptation of Ian McEwan's novel.
Movie Info
In 1935, 13-year-old fledgling writer Briony Tallis and her family live a life of wealth and privilege in their enormous mansion. On the warmest day of the year, the country estate takes on an unsettling hothouse atmosphere, stoking Briony's vivid imagination. Robbie Turner, the educated son of the family's housekeeper, carries a torch for Briony's headstrong older sister Cecilia. Cecilia, he hopes, has comparable feelings; all it will take is one spark for this relationship to combust. When it does, Briony--who has a crush on Robbie--is compelled to interfere, going so far as accusing Robbie of a crime he did not commit. Cecilia and Robbie declare their love for each other, but he is arrested--and with Briony bearing false witness, the course of three lives is changed forever. Briony continues to seek forgiveness for her childhood misdeed. Through a terrible and courageous act of imagination, she finds the path to her uncertain atonement and to an understanding of the power of enduring love.
News & Interviews for Atonement
Critic Reviews for Atonement
Audience Reviews for Atonement
½
Based on the Ian McEwan novel of the same name, this adaptation follows the lie of a little girl, and its repercussions throughout time. Briony Tallis (Ronan) sees something she doesn't understand and inevitable keeps two tragic lovers from being together. It's the same woeful love story that many of us have heard before, but now there's the issue of retribution and atonement for Briony. This makes the story that much more intriguing, because generally we hate the thing that keeps these couples apart, but Briony cannot be totally blamed. Read more at http://www.bluefairyblog.com/new-blog-1/2015/3/18/atonement
Spencer S.
Super Reviewer
½
Made me feel horribly sad, and a bit nauseous.
vieras esine
Super Reviewer
½
Joe Wright's 'Atonement' has a lot of positive things going for it, but none more brilliant and substantial than the film's cinematography and visuals. This includes, but is not limited to, a 5 minute tracking shot that never cuts away. It's pure, unadulterated filmmaking that we see less and less of. Not only filled with magnificent visuals, but each of the three leads fills their roles with great intensity and pathos, really creating something out of nothing when it comes to the script. The story feels a little blown out of proportion and the pace a little slow at times, but Wright makes sure it doesn't disappoint his audience. 'Atonement' does not have an astonishingly great story to tell, but its technical brilliance cannot be denied.
Kase Vollebregt
Super Reviewer
Atonement Quotes
| | |
| --- | --- |
| Robbie Turner: | "You'd be forgiven for thinking me mad - wandering into your house barefoot, or snapping your antique vase. The truth is, I feel rather light-headed and foolish in your presence, Cee, and I don't think I can blame the heat. Will you forgive me? Robbie." |
| Robbie Turner: | You'd be forgiven for thinking me mad - wandering into your house barefoot, or snapping your antique vase. The truth is, I feel rather light-headed and foolish in your presence, Cee, and I don't think I can blame the heat. Will you forgive me? Robbie. |
| | |
| --- | --- |
| Briony Taliis aged 13: | "Yes, I saw him. I saw him with my own eyes." |
| Briony Taliis aged 13: | Yes, I saw him. I saw him with my own eyes. |
| | |
| --- | --- |
| Robbie Turner: | (To Briony) I'm torn between breaking your neck and throwing you down the stairs. |
| Robbie Turner: | [to Briony] I'm torn between breaking your neck and throwing you down the stairs. |
| | |
| --- | --- |
| Tommy Nettle: | Cheerio, pal. |