Attraction
(2001)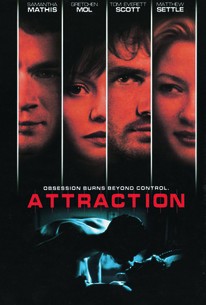 Movie Info
Writer/director Russell DeGrazier makes his feature debut with this dark tale of four twentysomethings and the destructive relationships between them. Originally titled Stalk, the film concerns the decidedly ungentlemanly behavior of Matthew (The In Crowd's Matthew Settle), part-time alternative-newsweekly columnist, part-time rude-boy radio talk-show host, and full-time torch-carrier for ex-girlfriend Liz (Gretchen Mol). In keeping with her "been there, done that" stance on their relationship, Liz objects to Matthew's obsessive displays of affection (parking his car outside her apartment for hours on end, attempting to break down her door). Luckily, two forces intervene: her friend Corey (Samantha Mathis) and her current boyfriend, Matthew's editor Garrett (Tom Everett Scott). In a chance meeting at a local watering hole, Corey befriends the tortured Matthew, and the two begin an intensely carnal relationship that not only distracts him from stalking Liz but also -- as an added bonus -- makes Liz jealous. Unfortunately, Garrett is still worried that Liz's loose-cannon ex might still be hung up on her, so he begins his own cat-and-mouse game with Matthew. Attraction premiered at the 2000 Toronto International Film Festival.
Critic Reviews for Attraction
Audience Reviews for Attraction
Could have been a decent b-grade psycho movie, instead was stupidly confusing and in the end couldn't even figure out who the bad guy was!
Nicki Marie
Super Reviewer
Attraction Quotes
There are no approved quotes yet for this movie.