August
(2008)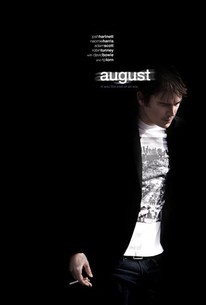 TOMATOMETER
AUDIENCE SCORE
Critic Consensus: Josh Hartnett puts in a well-intentioned performance but overall, August only superficially explores its dotcom-burst setting.
Movie Info
Josh Hartnett, Naomie Harris, Rip Torn, and Adam Scott star in director/co-screenwriter Austin Chick's tale about an ambitious dotcom entrepreneur attempting to stay afloat as the stock market begins to collapse and the entire country remains blissfully unaware of the national tragedy looming ever closer on the horizon. Tom Sterling (Hartnett) is on a professional downward spiral that's rapidly cutting into his personal life as well. His apathetic investor, Ogilvie (David Bowie), is refusing to relinquish control of the company that Tom is fighting to save, and his girlfriend, Sarrah (Harris), seems to have lost all interest in their relationship. In the midst of all this, Tom must also attempt to heal the wounds that have kept him estranged from his father, David (Torn), and brother, Joshua (Scott), as well.
Critic Reviews for August
Audience Reviews for August
½
Interesting solely when viewed as an aesthetic antecedent to The Social Network, with its shadowy interiors and pulsing dark electronic soundtrack, but this is a small story that made for a small movie. There's nothing wrong with small movies, of course, but August's ambitions run deeper; it's got some Very Important Things to say about the stock market, and tech, and Faustian power-grabs. Also noble, but when Josh Hartnett delivers a puerile anti-capitalism monologue halfway through the film and is universally applauded for it, the movie's intentions become both clear and undefendable. The movie discourages us from clashing with Tom Sterling's perspective, and even though that big caps-locked HUBRIS stamp ultimately brings him down, it obviously wants us to see him as a misunderstood, insecure bad boy of business. August's ridiculous bias hits its boiling point with an insane, scenery-chewing performance by Rip Torn, where he growls about Oreos and attacks Josh Hartnett with some quasi-Enron "it doesn't do anything if you can't explain what it does" argumentation. See? He's just trying to prove to his grumpy blue-collar daddy that he can work too. Do you guys get it yet? If you don't, we can repeat the scene almost verbatim forty minutes later. It's hard to tell if Tom Sterling is a failed character because of the script or because of Hartnett's performance. He seems to have a rich understanding of the material (he also produced the film), but I think he lacks the range of expression required to humanize this character. Really, despite what August wants us to think, Tom really just comes across as an incompetent asshole. Short of an effortless deflation by David Bowie late in the film, he's actually part of very few substantial events through the course of the story, so there aren't many opportunities to see him react other than trying to overwhelm his problems with sheer bullheadedness. I guess it's a deficiency of writing, for the most part, but the point is that it's a character piece that fails. It's unique, and not a total disaster, but August is entirely skippable.
Drew Smith
Super Reviewer
½
The film mainly centers on the charismatic and arrogant character Tom Sterling [portrayed by Hartnett] trying to keep the Dotcom company he started with his genius brother afloat as it begins to fold, spending money frivolously to make it seem as though the company is doing well...all while trying to rekindle a romance with his ex-girlfriend Sarrah [portrayed by the beautiful Naomie Harris]. Great performance by Josh Hartnett - he was brilliant in this film, he delivered quite possibly his best performance and pretty much carried this film. Good supporting performances by Adam Scott ["Step Brothers","Party Down"], Andre Royo ["The Wire"], Robin Tunney ["Prison Break","The Craft"], Rip Torn ["Men In Black"], Emmanuelle Chriqui ["Entourage"], David Bowie [who was only in one scene--which he stole], and Naomie Harris ["Ninja Assassin","The Tomorrow People"]. Great cinematography, directing [by Austin Chick], and good writing. It reminded me of "Boiler Room" at times, mainly because of some of the dialogue and the fact that they never really explained what the company actually did...only that it had to do with the net. Overall this film is an interesting character study, but it kind of drags and it's mainly the stellar performances that keep it going and almost make up for it not being that compelling.
Chosen 718
Super Reviewer
Josh Hartnett's performance in this film, is a good reason to check out the movie. In my opinion, it is one of his best performances, so far. The film reminded me of films like The Prime Gig, Boiler Room, Less Than Zero, Nothing in Common, Up in the Air, American Psycho, and Glen Gary Glen Ross. Adam Scott is also very good, as Hartnett's brother. Scott and Hartnett have a good on screen chemistry. Robin Tunney and Rip Torn are solid in their roles. David Bowie steals the one scene that he is in. The music in the film is good. On a negative, the pacing is off. Also while Naomie Harris was ok in her role, I think another actress in that role, would have done a much better job. She didn't have a good on screen chemistry with Hartnett. Still the film is worth watching for the performances, especially Hartnett's.
August Quotes
There are no approved quotes yet for this movie.