Auntie Mame
(1958)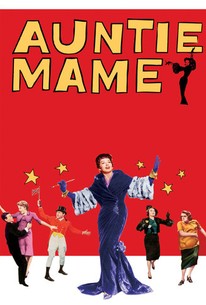 Movie Info
Auntie Mame began as a novel by Patrick Dennis (aka Ed Fitzgerald), then was adapted into a long-running Broadway play by Jerome Lawrence and Robert E. Lee. This 1958 film version permits Rosalind Russell to recreate her stage role as Mame Dennis, the flamboyant, devil-may-care aunt of young, impressionable Patrick Dennis. Left in Mame's care when his millionaire father drops dead, young Patrick (Jan Handzlik) is quickly indoctrinated into his aunt's philosophy that "Life is a banquet--and some poor suckers are starving to death." Social-climbing executor Dwight Babcock (Fred Clark) does his best to raise Patrick as a stuffy American aristocrat, but Mame battles Babcock to allow the boy to be as free-spirited as she is. In 1974, Auntie Mame was remade as the filmmusical Mame with Lucille Ball. ~ Hal Erickson, Rovi
News & Interviews for Auntie Mame
Critic Reviews for Auntie Mame
Audience Reviews for Auntie Mame
"Auntie Mame" is the funniest movie to come out of the 1950's. It's far funnier (and frankly, far better) than the Lucile Ball musical remake, "Mame", but it's nowhere near as charming. Despite its anachronistic set elements and its offensive stereotyping, "Auntie Mame" is a brilliant film and an absolute classic.
Christian C
Super Reviewer
NEVER have I seen such a stylish set. Massive props on that. Rosalind Russell is a goddess. And anyone who says otherwise should be done away with. Yes, it was a bit long and dragged at times, but the comedy was so witty and on the ball that who cares?! I loved this. It's such a perfect film and perfect comedy!
Jennifer D
Super Reviewer
½
the 1958 "auntine mame" is the pinnacle of rosalind russell's career, and it does jolly rosalind great justice to glitter her comic genius in screwball comedy gendre that had been neglected or underused before. overlooked by most, rosalind russell has uncanny parallel to another classic star katehrine hepburn who was also a screwball diva in the 30s, considering her numberous collaborations with cary grant like "bringing up baby". they share the traits of being tall fair brunette and both funny with their non-stop swift-paced british accents except hepburn had more sharp edginess within her aggressive mannerism which has been constantly mocked in movies like "woman of the year" and "philadelphia story". (after all, we all like to cut a lofy dame down, aren't we?) mame dennis is an eccentric socialite from the roaring 20s, wallowing in an extravangant life of endless gayety and diversities of styles and interior decors. mame has a stuff-shirted brother who sets up a will to keep her little son from her "bad influence" after he passes away. unfortunately it arrives soon, so auntine mame is ready to open doors for her nephew with mighty enthusiasm. the title protagonist auntie mame is a larger than life character as you cannot demand realism upon such a cozy heart-warming fair tale. it is a comedy which relies upon its witty lines nourished by its deviant naivete of exaggerated demeanors. and this sort of comedies could merely exist among the 50s (age of innocence despite its fatal mccarthyism) since the cleverly phrased comedy without relishing profanity is no longer popular after the mid 60s, another read-between-the-lines "refined" humor celebrating "santized bohemianism". the philosophy behind "auntine mame" is more of a hygienic hedonism without the darkness of alcoholism and prosmiscuity as mame exclaims "life is a bandquet, and most suckers are starving to death". and it does pose some anti-bourgeois sign without intruding middle-classed moralisticness. perhaps it casts a positive user-friendly democratic view that everyone should live beyond prejudice to appreciate a lovable cucko-cucko like auntine mame with enormous social acceptance. and my conclusion would be auntie mame is a fruitation of indulgent whims upon childlike innocence. one praise goes for orry-kelly who designs most clothes for warner bro. from 30s~40s,, also lots of bette davis vehicles like jezebell and little foxes. and rosalind russel does have episodic sections of various dyed hairdos and exotic costumes, and she even dresses herself like a drogn lady with a dragon-headed doorgate which fumes everytime guest rings the bell. that anchors the great idiocyncrasy of auntine mame. except katherine hepburn, no other actress could deliver those oddball lines so well so proficiently as rosalind russell who is mildly underrated. russell does appear as demure love interest in her 30s mgm days in flicks like "china seas" and "they met in bombay" with, again, clark gable. russel could be competent in most roles hepburn made prestige among 30s~40s. the major distinction would be russell is more feminine and less domineering and invasive than hepburn. thus rosalind russell makes an appropriate goofy adorable auntine mame as every adolescent boy's ideal auntine. an escapic retreatment for childhood dreams.
Veronique Kwak
Super Reviewer
Auntie Mame Quotes
| | |
| --- | --- |
| Mame Dennis: | Life is a banquet, and most poor suckers are starving to death! |
| Mame Dennis: | Life is a banquet and most poor suckers are starving to death! |
| | |
| --- | --- |
| Mame Dennis: | Child, how do you see with all that light? |
| | |
| --- | --- |
| Mame Dennis: | Life's a banquet and most poor suckers are starving to death |
| Mame Dennis: | Life is a banquet and most poor suckers are starving to death. |
| | |
| --- | --- |
| Patrick Dennis: | Pipe down, kid. Your Auntie Mame's hung |
| Patrick Dennis: | Pipe down, kid. Your Auntie Mame's hung. |