Austin Powers in Goldmember
(2002)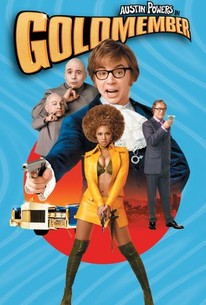 TOMATOMETER
AUDIENCE SCORE
Critic Consensus: While the narrative structure is messy and doesn't make much sense, the third installment of the Austin Powers franchise contains enough inspired bits to entertain.
Austin Powers in Goldmember Photos
Movie Info
Mike Myers' phenomenally successful spy spoof gains a few more characters, a slew of celebrity cameos, and even more free-associative laughs in this third installment of the popular franchise. Austin Powers in Goldmember continues the exploits of the swinging-'60s leftover, who, as the film opens, is busy critiquing a big-budget Hollywood production of his life story, replete with a 20-million-dollar star in the lead role and a slew of John Woo-style action scenes. But not far from the soundstage lurks arch nemesis Dr. Evil (Myers), who has opened up a talent agency representing some of the industry's biggest stars -- all the while channeling their profits into a diabolical world-destruction plan with the unfortunate code name Preparation H. Dr. Evil presents a distraction to Austin by kidnapping his similarly swingin' father, Nigel Powers, and transporting him back in time to 1975. Travelling there to save his father -- and in turn win back his dad's sometimes-errant affection -- Austin comes across the alluring superspy Foxxy Cleopatra (Beyonce Knowles). The three of them travel back to the present day, where they join forces to battle Dr. Evil and his posse of nefarious evil-doers, including the trusty clone Mini-Me (Verne Troyer); his snotty son, Scott (Seth Green); the inimitable Fat Bastard (Myers); and the eponymous new addition to the fold: the epidermis-obsessed, precious-metal-fortified Dutchman called Goldmember (Myers). ~ Michael Hastings, Rovi
News & Interviews for Austin Powers in Goldmember
Critic Reviews for Austin Powers in Goldmember
Audience Reviews for Austin Powers in Goldmember
The first five minutes of this James Bond parody sets the bar high for the rest of the film and that simply on the strength of it's numerous celebrity cameos. Mike Myers was soooo hot at one time he had the weight to pull this kinda talent (... and then "The Love Guru"). The rest though is more of the same channeling Benny Hill that the series is known for. There's a guilty chuckle or two in all of this silliness despite your valuable college philosophy degree.
Kevin M. Williams
Super Reviewer
½
Third outing for Powers this time involving the disco era of the 70's and introducing his father with winning results much like 'Indy' did in 'The Last Crusade'. Its Powers, its crazy, its childish, its chock full of sexual innuendo and toilet humour and like the previous two films its part of the best Bond spoof/parody franchise created. We all know what to expect with this and you get exactly what it says on the tin, so to speak. The comedy is as sharp and witty as ever being thick n fast as Myers does his thing with various characters, his new creation of 'Goldmember' being typically dumb but quite amusing, unfortunately we also have to endure his Scottish creation again. There are loads of cameos throughout which do seem a little too much at times I must admit (do we really need to see Spears prancing around and Quincy Jones in a clear pointless ego nod?) but the cast continuity still impresses. The mock intro sequence at the start is a good example of how it can work with Cruise actually looking a dead ringer for the Powers character and sending up his 'M.I.' films perfectly, kudos to Cruise for being able to laugh at himself. The inclusion of Devito and Spacey as 'Dr Evil' and 'Mini me' both hit the nail on the head perfectly also, you could easily do a new film with that cast. The added bonus of Caine playing Powers father is possibly the best bit of casting I've seen for along time, he was born for the role. This time the franchise almost turned into a smutty sexual spoof like 'Flesh Gordon' in places, the comedy is definitely a touch risky where as the second film was smarter with more cultural references and the first being more sensible plot wise if that's possible. Anyway its still great fun with Dr Evil being the highlight for me as always, love his rap, but I can't decide which film is the best, possibly number two.
Phil Hubbs
Super Reviewer
½
The last-ditch-effort with celebrity cameos is cheap but still hilarious. I also like the role reversals of Scott Evil and Mini-Me. Beyonce plays the blaxpoitation heroine trope with sass and gusto.
Alice Shen
Super Reviewer
Austin Powers in Goldmember Quotes
| | |
| --- | --- |
| Nigel Powers: | Oh my god! You're a tripod. |
| Mini-Me: | [nods] |
| | |
| --- | --- |
| Austin Powers: | Mole! |
| Basil Expedition: | Oh, shut up! |
| | |
| --- | --- |
| Austin Powers: | Mr. Roboto is lying to us. |
| Foxxy Cleopatra: | Tell me something I don't know. |
| Austin Powers: | I open mouth kissed a horse once. |
| Foxxy Cleopatra: | Say what? |
| Austin Powers: | That's something you don't know. |