Australia
(2008)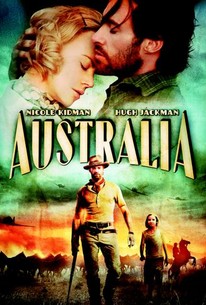 TOMATOMETER
AUDIENCE SCORE
Critic Consensus: Built on lavish vistas and impeccable production, Australia is unfortunately burdened with thinly drawn characters and a lack of originality.
Movie Info
An English aristocrat inherits an Australian ranch the size of Maryland. When English cattle barons plot to take her land, she reluctantly joins forces with a rough-hewn cattle driver to drive 2,000-head of cattle across hundreds of miles of the country's most unforgiving land, only to still face the bombing of Darwin by the Japanese forces that had attacked Pearl Harbor only months earlier.
Critic Reviews for Australia
Audience Reviews for Australia
½
It's not awful, but it certainly lacks the tongue-in-cheek spark of other Baz Luhrmann films, thus rendering the emotion quite melodramatic. I wouldn't say the movie could've ended three times (in that it was too long and repetitive), but new plot points just kept building on and on. There's always more. This must have been when Nicole Kidman was Botoxing it cuz her face is a bit plasticky, and she overmugs to compensate. Brandon Walters as the half-Aborigine boy, Nullah, is plucky and exuberant. Hugh Jackman is rough and gruff on the outside, marshmallows and puppy dogs on the inside.
Alice Shen
Super Reviewer
½
Somewhere beyond "good," but not quite "really good." I've always been a Luhrman fan, so some of the more airy or mystical qualities of this film didn't bother me, and I was often swept away by the bright, beautiful visuals. The two stories (Jackman and Kidman as the lovers in a dangerous time, and the spirit quest Kidman's adopted Aboriginal child must go on) don't exactly dovetail, but they make for a film in which multiple perspectives are presented, sometimes thoughtfully and other times laboriously. In all, I thought it an entertaining and somewhat unfairly panned film. It's either the most or the least ambitious work Luhrman's ever done, and it's worth seeing once to decide for yourself.
Daniel Perry
Super Reviewer
I thought this was an epic 'Dances With Wolves' type film so I was alittle disappointed to discover it isn't, its more of a romantic comedy/epic in the same vain as 'Gone With the Wind'. That's fine and for what it is its a good film but its not quite my cup of tea. It is very well made and in fine 'Gone With the Wind' form, the Aussie cast are all perfect for their roles (except Jackman seems a little typecast as 'Wolverine' hehe that's all I could think when he shows his chest, Wolverine in 1939) and the visuals are tremendous, the Oz landscape is really used for its best possible look although there is quite alot of bluescreen used which is obvious (to me anyway). It would have been nice to see an epic about the Aborigines in 'Dances' style to be honest, that could of been very cool, the glimpses of the old Aborigine man King George is very curious and needed to be explored more. The first 30min of this film does tend to be rather romcom and silly, much like Jackmans other romcom period set film 'Kate n Leopold'. It does get much better and more serious as the war looms closer and things get abit teary for sure. The effects are, as said, obvious but look atad better during the war sequences. Its a very old style flick, very 40's right down to the end credit fonts hehe which is nice, a good film but maybe too mushy haha but thats how they used to be right :) a nice happy ending.
Phil Hubbs
Super Reviewer
Australia Quotes
| | |
| --- | --- |
| Nullah: | "I sing you to me, Mrs. Boss." |
| Nullah: | I sing you to me, Mrs. Boss. |
| Lady Sarah Ashley: | "And I will hear you, my darling." |
| Lady Sarah Ashley: | And I will hear you, my darling. |
| | |
| --- | --- |
| Drover: | Need a drink |
| Drover: | Need a drink? |
| | |
| --- | --- |
| Lady Sarah Ashley: | Poppy-cock poppy....cock!!!! |
| Lady Sarah Ashley: | Poppy-cock poppy....cock! |
| | |
| --- | --- |
| Neil Fletcher: | It's been a pleasure working with you, a real pleasure!!!! "with a sinister voice" |
| Neil Fletcher: | It's been a pleasure working with you, a real pleasure! [with a sinister voice] |