Autism: The Musical
(2007)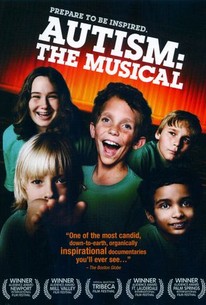 AUDIENCE SCORE
Critic Consensus: No consensus yet.
Autism: The Musical Photos
Movie Info
At a time when one in 150 children born in the United States is diagnosed with autism, filmmaker Tricia Regan takes an optimistic approach to this troubling trend by following five autistic children as they write and produce their very own full-length musical. Show over the course of an entire year, this documentary follows the ambitious production from early planning to opening night.
News & Interviews for Autism: The Musical
Critic Reviews for Autism: The Musical
All Critics (3) | Top Critics (2) | Fresh (3) | Rotten (0)
As flip and gaudy as that title might sound, this spare little movie is actually one of the most candid, down-to-earth, organically inspirational documentaries you'll ever see.

It's an eyes-wide-open account of tenacity and triumph for parents and children alike. Considering the dramatic rise in the number of children born with autism, it's a film that everyone should see and appreciate.
Regan's film tackles the subject of autism in an entirely intimate and personal way, following a group of autistic kids as they write and perform their own musical production.
Audience Reviews for Autism: The Musical
Troubled but completely adorable kids with autism are compelled to star in a musical by well meaning adults. Happiness is found by both who comply and rebel. Both are unforgettable.
John Ballantine
Super Reviewer
You know that a film is great, when he inspires and move the audience. Fresh.
Lucas Martins
Super Reviewer
My wife (who works with an autistic teen) made me watch this. Autism the Musical definitely makes you think about the way that autism is currently regarded and proves that there are very alive people under a sometimes distant exterior--as shown through the 5 main kids highlighted in this documentary. I felt kind of bad for some of the kids in more ways than one (some of these parents were annoying as all hell--I know they've got the best interests of the kids at heart, BUT STILL!) The fact that they seemed to mostly focus on affluent families (the son of Stephen Stills, the son of a former Playboy modem) was kind of a turn off since 1 in 150 kids are diagnosed with autism and the odds of them being rich aren't as good. In the end if you know are are related to to someone autistic this is essential viewing, but if you're not or aren't interested don't bother.
Michael Gildea
Super Reviewer
Autism: The Musical Quotes
There are no approved quotes yet for this movie.