Automatons
(2006)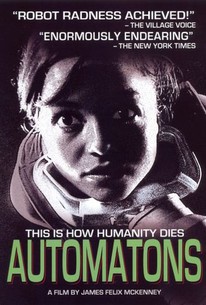 Movie Info
Machines fight for control of a world destroyed by man in this ultra-low-budget sci-fi saga from filmmaker James Felix McKenney. A global war has left the surface of the Earth uninhabitable, and the few humans who have lived through the conflict have been driven underground in order to survive. The Girl (Christine Spencer) lives in a subterranean bunker that she shares with several rattletrap robots of her own design. The Girl occupies herself by watching old videotapes of a scientist who was her friend and mentor before the apocalypse, but lately she has other things on her mind. Another survivor (Brenda Cooney) has established a robot army, and is using the machines to lay claim to the remains of the Earth. As the Girl constructs her own mechanical security force, she discovers the Enemy Leader has a dangerous surprise in his arsenal -- the ability to turn the Girl's robot friends against her. The ranting scientist in Automatons is played by Angus Scrimm, best known to horror film buffs as "the Tall Man" from the Phantasm franchise.
News & Interviews for Automatons
Critic Reviews for Automatons
Audience Reviews for Automatons
½
The lone survivor of a devastated nation lives alone in a bunker, her only companions being the voice recordings of a long-dead scientist (Angus Scrimm) and the robots she sends out to do battle with the enemy on the unliveable, poisoned surface. In scratchy black and white with lots of theremin noises in the background and deliberately cheesy, clunky robots, it's a recreation of a 1950s sci-fi movie or serial; it evinces a real love for the style, but sadly but there's just not enough story to maintain interest even during its short run time.
Automatons Quotes
There are no approved quotes yet for this movie.