Autumn Leaves
(1956)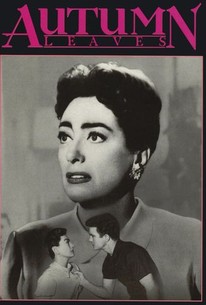 Movie Info
Few actresses other than Joan Crawford could have successfully pulled off the melodramatic excesses of Autumn Leaves. Though a very attractive fortysomething, Crawford remains aloof from romance until she meets Cliff Robertson, a young man half her age. An ardent and persistent suitor, Robertson finally breaks down her resistence to marriage. After a few weeks of wedded bliss, Crawford is confronted by Vera Miles, who claims to be Robertson's first wife. Miles further insists that Robertson is mentally unbalanced...and his subsequent behavior seems to bear this out. What Crawford doesn't know-but the audience does-is that the real villains of the piece are Miles and her middle-aged lover, Robertson's own father (Lorne Greene). Autumn Leaves works far better on screen than it does in print, thanks to the virtuoso performances of practically everyone in the cast. And, as anyone who's listened to top-40 radio during the past four decades already knows, the film also yielded a hit title song, written by Joseph Kosma, Jacques Prevert, and Johnny Mercer and performed during the credits by Nat King Cole.
Critic Reviews for Autumn Leaves
Audience Reviews for Autumn Leaves
½
"autumn leaves" is one of the best pictures for joan crawford's career in the 1950s with the patron of robert aldrich whose noirish masterpiece is ralph meeker's "kiss me deadly"..but this movie inevitably encounters the doom of oblivion due to the misogynistic assumption of crawford's screen persona...mostly people misconceive "autumn leaves" as another campy crawfordian feminist piece of mature woman romancing young lad then suffering from the evil fruit of her manipulative trifling with the younger man. BUT "autumn leaves" is actually a romantic drama interwoven with a grim scent of psychological thriller. it's about a spinister called milly, who sacrifices her youth attending her invalid dying father, now she's self-sufficient with an assured career working at home, but she's secretly wretched with solitude until she meets a jolly young man named burt whose freewheeling sense of innocent humor enlightens her sorrowful life with a gleam of rosiness. hesitated by their span of age, milly tries to resist burt's boyish charm but in vain since she welcomes his proposal of marriage...but is everything too good to be true? please don't mistake it, "autumn leaves" is NOT a film noir piece of sordid doublecross despite incest is indeed an essential element within its scenarios. the twist would be burt's psychotic crackup over his father's unbearably unethical revelation (i shall leave the reader to find out) which has torn his composed sanity into pieces, and his obsession with milly might be a symptom of neurosis for the solace of maternal attachment. dismayed by the shattered happiness, milly has to confront the issue of whether she should commit burt into sanitarium, if she does, would his love for her be also cured off for good? or should she bath in the diseased love as the matriarch at the cost of mutual ruin? undetected by most, "autumn leaves" is a whispering romance of pathos and unconditional love addled with mental illness, and it's supposed to be a tender tale of an old maid's yearning, foreshadowed by nat kind cole's "autumn leaves" as theme that is the metaphor of a late-blooming love of longing since this lady's life is at the stage of autumn, and she craves for the lover who has departed to let her alone in the chilling autumn when her light of hope could only deteriorate into the frosty winter as if dream has been diminished for good. cliff robertson, who has made distinguished performance in "the twightlight zone" episode "the dummy" as the deranged ventriloquist whose identity has been thieved by his dummy, plays burt, and robertson's accomplished portrayal of schizophrenia might be a parallel to joan crawford's oscar-nominated performance in 1947 "the possessed" which is about a young nurse's decline into insanity and her redemption from her patriarch-alike husband..this could be a satiric irony as crawford's roles vary for the adjustment of ages, and it might be wondrous to observe a young actor in the similar niche of her former career milestone. nat king cole's "autumn leaves" is a beautiful elegy of lyricism and the movie has a good casting of competence. also, robert aldrich's direction is well-tuned with its melodramatic paces, and definitely far from campiness. what hinders its nowaday popularity? the heavy cosmetics of over-sized eyebrows and over-smeared lip-gloss. perhaps the only campy moment in "autumn leaves" would be its imitation of "from here to eternity" when cliff robertson does the burt lancaster/deborah kerr gesture to joan crawford as the splashing sea waves submerge the kissing couple on the beach.
Veronique Kwak
Super Reviewer
Good latter day Joan, actually one of her better late middle period films before the descent into cheapjack horror.
Autumn Leaves Quotes
There are no approved quotes yet for this movie.