Avengers Confidential: Black Widow & Punisher
(2013)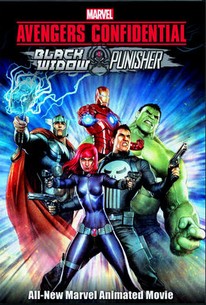 AUDIENCE SCORE
Critic Consensus: No consensus yet.
Avengers Confidential: Black Widow & Punisher Photos
Movie Info
When The Punisher takes out a black market weapons dealer with stolen S.H.I.E.L.D. tech, he inadvertently stumbles upon a much larger terror plot under investigation by Black Widow, agent of S.H.I.E.L.D. Detained by the clandestine law enforcement organization, Nick Fury offers the Punisher his freedom in exchange for one mission; To work with Black Widow and stop the terrorist group known as LEVIATHAN.
Critic Reviews for Avengers Confidential: Black Widow & Punisher
All Critics (1) | Fresh (0) | Rotten (1)
Another weak, uninspired effort that once again proves that if you want fun, exciting adventures featuring The Avengers your local theater is the only option worth considering.
Audience Reviews for Avengers Confidential: Black Widow & Punisher
½
Not bad for a Marvel animation, Old school animation and some good action scenes at the end but apart from that it's 10 minutes too long and there's allot of plot detail that really stopped the film dead in its tracks, Too dull for kids and adults will watch and soon forget.
Jamie Clarke
Super Reviewer
½
An hour of meaningless noise followed by twenty minutes of lacklustre promotional material. Marvel fan or not, you can skip this one.
Adult action with very old school animation. Good Animated Movie! A real plus that you have to give to the movie is that it does look better than the poster. There is no shortage of collateral damage throughout as these superhero battles are wont to leave, and this is Punisher so expect more death than you have seen before in any Marvel movie. This is a very Enjoyable movie which I can not help but recommend. After interfering with a top secret mission, THE PUNISHER is taken into custody by S.H.I.E.L.D. AGENT and AVENGER, BLACK WIDOW. At the orders of Director Nick Fury, Punisher and Black Widow are sent on a mission to stop LEVIATHAN, a global terrorist organization, that plans to sell stolen S.H.I.E.L.D. technology to the highest bidder. Now, the vigilante and spy must work together to prevent this technology from falling into the wrong hands. The fate of the world, and of the AVENGERS, hangs in the balance.
Avengers Confidential: Black Widow & Punisher Quotes
There are no approved quotes yet for this movie.