Awake
(2007)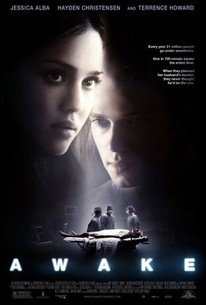 TOMATOMETER
AUDIENCE SCORE
Critic Consensus: Awake has an interesting premise but would have benefited from tighter performances and more efficient direction and editing.
Movie Info
During surgery, more than 60,000 people domestically each year experience "anesthetical awareness," a condition when anesthesia fails during surgery, leaving one completely conscious and feeling every incision, but paralyzed and incapable of doing anything about it. This is what happens to Clay.
Audience Reviews for Awake
½
Psychological thriller about a wealthy guy (Hayden) who is awake during his heart surgery. He hears the surgeons plot how they are going to kill him. But why? There are many twists to the movie which keeps it interesting. Good plot but very graphic and gorey, not for the faint hearted! Good cast.
Candy Rose
Super Reviewer
This film begins with an extreme story and injects you with emotions about life and love. You feel the pain of Hayden Christiansen's character as he is about to have a heart transplant. As they put him to sleep, he somehow does not quite fall asleep and he cannot move, but he can hear and feel everything that is happening to him during the surgery. It is a very interesting premise and it is executed pretty well and kept me on the edge of my seat, but the main problem with this film is that you are focussing on everyone around the main character, instead of the main character himself, while the main character is the only character to like in the entire film. This film becomes a huge mess by the final sequence. I felt the pain halfway through and was having real sypathy for the characters, but after the climax I just lost interest and really did not care what was happening anymore. This film began with promise, but spun out of control and is just above the line of failure. I still enjoyed it, but it should have been so much better!
½
Awake is a far-fetched thriller set against the backdrop of a phenomenon called anesthesia awarness. I didn't care for the casting much: Jessica Alba as the sexy schemer, Terrence Howard as the sympathetic friend yet murderer, and Hayden Christensen as Clay Beresford, the young, rich lead. He's tedious and uninteresting, and I never bought off on him at all. Lena Olin as the mother gives the strongest, most complex performance. Also, a cinematic device was employed using commentary from an anesthetized state and near-death limbo as if body and spirit are separated. This movie couldn't work without it, yet it rings of complete fiction. There are surprising twists, yet the whole thing is never convincing and at least somewhat preposterous. The medical suspense is real enough but this pill is difficult to swallow. Its mediocre; a promising idea and stylish yet ultimately disappointing.
Clintus Maximus
Super Reviewer
Awake Quotes
| | |
| --- | --- |
| Clayton Beresford Jr.: | This is just my imagination, that's all. |
| | |
| --- | --- |
| Sam Lockwood: | As soon as you get out, I'll be right here. |