Away From Her
(2007)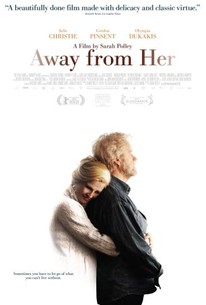 TOMATOMETER
AUDIENCE SCORE
Critic Consensus: An accomplished directorial debut by Sarah Polley, Away From Her is a touching exploration of the effects of Alzheimer's, in which the tender wisdom of Polley's script is beautifully complemented by a wonderful performance from Julie Christie.
Movie Info
Married for almost 50 years, Grant and Fiona's commitment to each other appears unwavering, and their everyday life is full of tenderness and humor. This serenity is broken only by the occasional, carefully restrained reference to the past, giving a sense that this marriage may not always have been such a fairy tale. This tendency of Fiona's to make such references, along with her increasingly evident memory loss, creates a tension that is usually brushed off casually by both of them. But, when it is no longer possible for either of them to ignore the fact that Fiona is being consumed by Alzheimer's disease, the limits of their love and loyalty must be wrenchingly redefined.
News & Interviews for Away From Her
Critic Reviews for Away From Her
Audience Reviews for Away From Her
A husband's devotion to his wife is tested when she suffers from Alzheimer's and must go to a nursing home. A slow, sensitive, and deeply affecting drama, Away From Her features wonderful performances by its leads and Sarah Polley's steady directorial hand. Julie Christie is wonderfully tragic, beating Julianne Moore to this punch a long time ago, and Gordon Pinsent, whom I've never seen before, positively carries this film. Grant is flawed - his flaws sometimes hijacking the plot - but he also seems like the type of husband that we might all wish we were or had. And the ending ... well, it's subtle and lovely and very sad. Overall, with all due respect to Still Alice, Away From Her is one of the best films about Alzheimer's.
Jim Hunter
Super Reviewer
Easily one of the most heartbreaking and saddening films of all time, this directorial debut from actress Sarah Polley deals with the deterioration of a mind, but more importantly a marriage. Set in the drifts of the Canadian snow, Polley creates a vast landscape constructed of bare boned memories and nerve touching emotions. She pieces together a narrative that shows their entire forty four years together, though the love each expresses for the other is encapsulated in tender moments of reflection and reconciliation. As his wife starts to lose her memory bit by bit, Grant (Pinsent) mostly denies that she has a problem at all, and as time passes even further, he has to slowly say goodbye to a woman he has formerly wronged, and made right to. Their love is so deep and lively, with their breadth of knowledge, of inner peace, and that's shown in the performances of Gordon Pinsent and Julie Christie, who really remain the most poignant of any onscreen couple. There is nothing more heart aching than watching Christie as she slowly loses any recognition for the man she has loved for most of her life. Pinsent's character remains stoic throughout the incident, and holds out hope for her memory to return, and that makes it all the more heart breaking when it doesn't. The way this film is paced is beautiful, taking into account the lives that they lived before Christie's decline, but also looking at what has happened, at the new relationships that are forming, of letting go to someone you simply can't live without, for their own benefit, and being okay with it. Tears will stream down your face as they lose each other, without one of them ever knowing.
Spencer S.
Super Reviewer
I struggled getting into this one, just because it is such a horrible subject (altzheimers disease). Obviously this was never going to be a laugh a minute. However, the acting by both Julie Christie and Gordon Pinsent is so well done that it somehow doesn't wind up totally depressing, even though it probably should be. A bit different to what you normally see in the movies. Recommended.
Nicki Marie
Super Reviewer
Away From Her Quotes
There are no approved quotes yet for this movie.