An Awfully Big Adventure
(1995)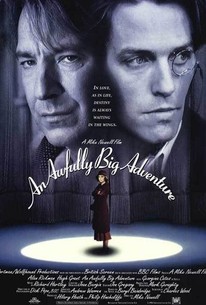 An Awfully Big Adventure Photos
Movie Info
This intense drama provides an unsentimental look into how the hopes and dreams of star-struck youths are sullied by the selfishness of the adults around them. The story is set in 1947 Liverpool where a small theater troupe, managed by Meredith Potter, prepares a production of "Peter Pan." Young Stella has just been hired as the new assistant stage manager. She is only sixteen and in love with the theater. Soon she also falls in love with Meredith and his Tony ways. Stella begins to affect his mannerisms; she also begins reading and censoring his mail. Meredith is quite abusive to Bunny the stage manager. Stella's mother died years ago and when she is at home with surrogate parents Uncle Vernon and Aunt Rita, she often holds involved phone chats with her mom. Back on the stage, P.L. O'Hara, a known actor, who will play the Capt. Hook finally arrives. He falls for Stella and deflowers her. The affair continues, but Stella feels nothing as she is still in love with Meredith. At the film's climax Stella learns a family secret and the true relationship between Meredith and Bunny is revealed.
Critic Reviews for An Awfully Big Adventure
Audience Reviews for An Awfully Big Adventure
Alan Rickman was the reason I saw this movie, and he's great in it, but that's not the only reason it's good. The story is realistic, dramatic, sad, and has a very surprising ending. I highly recommend it.
There isn't anything really terrible about his film is a well done and I liked the protagonist. I watched the film because of Rickman and I wasn't disappointed.
Marion Ravenwood
Super Reviewer
An Awfully Big Adventure Quotes
There are no approved quotes yet for this movie.