Azumi
(2003)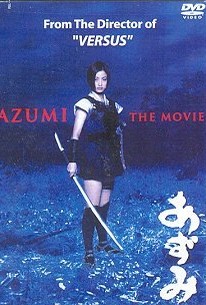 Movie Info
Orphaned in 19th-century war-torn Tokugawa Shogun period of Japan, Azumi is found and raised along with nine other orphans by Ji, the mentor. The Shogun, sickened by innocent lives lost in senseless warfare, had commissioned Ji to cultivate assassins that could eliminate warlords before they could strike. After 10 years of inconceivably harsh training and discipline, Azumi and her comrades, who have been molded into invincible warriors, excitedly await instructions from Ji. "An assassin has no choice but to fulfill his mission, however cruel or extreme," says their mentor. "This is your ultimate test. You must kill your partner, or be killed." Azumi is stupefied. She and her partner, Nachi, who have developed a special relationship, have no choice but accept their terrible fate--only one of them can survive. With heavy hearts, Azumi, along with the four other survivors of the "test," Ukiha, Hyuga, Amagi and Nagara, venture into the vast world outside of their secluded valley.
Audience Reviews for Azumi
½
Based on a popular manga series centring around a young girl who is raised by assassins and eventually set on a mission to kill off some warlords who threaten the peace of Japan. More samurai than you can shake a stick at hehe yes we've seen this kind of thing before but for some reason that doesn't matter. There is nothing better than seeing a well made Japanese film about their past, yes this has a lot of artistic license and is more fantasy based but its still damn fun. A curious set of characters all led by their strict master and all played well by the cast, Aya Ueto as 'Azumi' is ultra cute, not the most authentic looking samurai but this is manga adaptation. The rest of the cast are unknown to me but do the job well, nothing too special or original but its entertaining. The deadly character of 'Bijomaru Mogami' is fun, an egotistical lethal merc who kills pretty much anyone for fun and is dressed all in flowing white, think along the lines of 'Vega' from the Street Fighter II videogame franchise. Action is fast fluid and bloody when it kicks in as you might expect but its not over done. There is the odd moment of high flying wire work which spoils it in my view, they love that in Japan for some reason. The plot is simple and easily followed, the film looks great in terms of costumes, weapons and location and it comes across perfectly as an adaptation.
Phil Hubbs
Super Reviewer
½
A samurai sick of war takes in a group of orphans and trains them to be assassins with the sole purpose in life of killing the warlords responsible for the constant bloodshed. Based on a comic book and directed in a very anime style, this film has more in common with a superhero movie than a samurai epic and contains the associated melodrama and lack of moral ambiguity; it's all about the good guys kicking bad guy ass. And very stylishly they do it too. Ryuhei Kitamura stamps his usual slick visuals onto the action and although he cannot resist overcooking them from time to time, the set pieces are very well staged. The fight sequences get ever more impressive as they go, the highlight for me being the scene in which we finally get to see Azumi's master in action. Hardly the height of depth and sophistication, but it's an action-packed comic strip hack and slasher that is perfectly paced for it's highly entertaining two hour length.
"No matter how much I try to escape...I can't avoid it. I have no choice...I am forced to kill." Azumi is a pretty standard Asian action flick with a little drama mixed in. It's a better watch than most, though, because of several pretty emotional twists and turns that the story takes. You come to care about several of the main characters, and the things that happen to them are handled in a way that makes them have an impact, without killing the momentum of what's an action movie at its heart. I can't comment on how carefully the plot sticks to that of the manga, as I haven't read it. Azumi is an orphaned girl raised with 9 other orphans by a master swordsman. He plans to one day unleash them as assassins to kill the various warlords that are responsible for the devastating, re-occurring wars throughout Japan. As the designated day for the plan grows closer, Azumi and her companions face one final, brutal test, and then go out into a world that is far more complicated than the secluded environment they were raised in. The fanciful and stylized fight choreography isn't the best that I've seen, but it more than suffices. There are times that the warriors standing around in the battle scenes waiting their "turn" are hard to ignore, but that's a pretty minor complaint. There are some pretty cool and memorable moments, as well. The battles are frequent and entertaining, and the levels of bloody carnage are noticeable, without being overly gratuitous. There isn't any definite thing I can point to as the main reason why I liked Azumi so much. It's true that it's another of countless similar sword-fighting movies set in ancient Japan, but it's well-made and enjoyable. If you'd like a satisfying action flick with a very pretty girl as the lead and a few genuinely sad moments, this is a good movie to try.
Azumi Quotes
There are no approved quotes yet for this movie.