B. Monkey
(1999)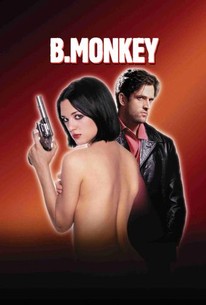 Movie Info
In this witty romantic thriller, Alan (Jared Harris) is a London schoolteacher who leads a quiet, mildly stuffy life. As a hobby, he serves as a jazz disc jockey, spinning tunes for a hospital's public address system, but he craves danger and excitement. One night, Alan stops into a bar for a drink and sees Beatrice (Asia Argento), a beautiful woman who is arguing with two men. Alan is immediately enraptured by Beatrice and begins to pursue her. What Alan doesn't know is that Beatrice is an infamous thief known to the police as "B. Monkey" (named for her ability to break into anything), and the men she was quarreling with were Paul (Rupert Everett) and Bruno (Jonathan Rhys Meyers), a gay couple who are her partners in crime. When Alan becomes aware of Beatrice's secret, he tries to lead her into a safer and more honest way of life, even as she lures him into the thrilling existence he's been dreaming of. Leading lady Asia Argento is the daughter of Italian horror auteur Dario Argento.
Critic Reviews for B. Monkey
Audience Reviews for B. Monkey
½
While this certainly doesn't satisfy as a thriller, beneath the gritty exterior and all the expletives there lurks a sweet, rather old-fashioned love story. Not a great movie, but quite charming all the same. Rupert Everett stands out as a world-weary drug dealer/addict.
B. Monkey Quotes
There are no approved quotes yet for this movie.