Baadasssss!
(2003)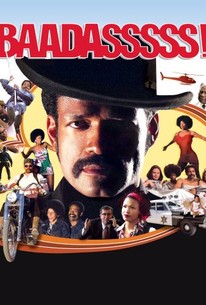 Movie Info
In 1971, filmmaker Melvin Van Peebles released his third film, Sweet Sweetback's Baadasssss Song, which he wrote, directed, and scored. Despite boasting an all-black cast, an X rating, a low budget, and a decidedly non-Hollywood approach to moviemaking, the ground-breaking independent film went on to gross over ten million dollars while inspiring countless other films of the genre that would come to be called blaxploitation. Mario Van Peebles, the director's son, was 13 at the time and got his first taste of show business with a small role in the film. Over three decades later, the younger Van Peebles directed and co-wrote this film, in which he stars as his father. BAADASSSSS! chronicles the director's struggles to get the film made by highlighting the social roadblocks and production pitfalls Van Peebles faced, as well as the personal sacrifices he was forced to make. Also starring T.K. Carter, Ossie Davis, and Nia Long, BAADASSSSS! premiered at the 2004 Sundance Film Festival. ~ Matthew Tobey, Rovi
News & Interviews for Baadasssss!
Critic Reviews for Baadasssss!
Audience Reviews for Baadasssss!
Ever wonder what it would be like to make your own film without a studio to support you and no money in the bank to fund it. Well, thankfully Mario Van Peebles' father forged ahead in the 70s with a dream and passion like no other. While Hollywood was content with making pictures that negatively depicted African Americans, Melvin Van Peebles decided to break this cultural norm and change the face of cinema. With no budget, money from friends and drug dealers, and a non-union crew, Melvin created the impossible. He grabbed a hold of an idea and let nothing get in the way from accomplishing it. Melvin had a dream of making an African American the center of the film, one that took no sass from anyone and criticized the modern white Government. While big studios backed away from this project, Melvin jumped forward made Sweet Sweetback's Baadasssss Song. There were trial and tribulations to get it done, but thanks to a very surprising source the film became a success. It was the first independent film to become the number one film in America. Similar to the passion seen in Melvin's eyes when he is making his low-budget film, Mario portrays that exact same involvement when making this low-budget film. What I loved about this film is that there is so much raw, unbridled emotion behind Mario's eyes that you can tell that he 1) loves his Dad and 2) wanted to show America the truth behind this innovator's life. This is Mario's past, and he superbly reenacts it on screen. He carries this film, showing us the many facets of his father. He shows the angry American, the independent talent, the powerful leader, and even the emotional parent. Through all of this Mario continues to keep this film focused and interesting. We cannot keep our eyes off his portrayal of his father. I would not be surprised if he is nominated for an Oscar this year. Finally, this is a very powerful film that speaks about a side of Hollywood that is less known. It shows how the boundaries of racism can be broken with imagination and persistence. It shows that 'all men are created equal' and that if you have a dream you should pursue it. If you are in the process of making your own film and need a movie that will inspire and motivate, this would be the film to watch. From the moment I put this film in my DVD player, I was glued. What a powerful story coupled with interesting actors (Adam West and Sally Struthers) and told with a very realistic voice. I highly recommend this film.
Cassandra Maples
Super Reviewer
½
Not so much a documentary (though its filmed like one) but a drama showing how Melvin Van Peebles' "Sweet Sweetback's Baadasssss Song." got made, despite the lack of money, support, technical expertise, social climate, etc etc. Directed by and staring his son Mario Van Peebles, who does an amazing job of conveying the complexity, charm and take-no-prisoners attitude of his dad, and a feeling of what it was like to be there in that time in that place. And Mario should know, since he was hauled in act in the most controversal scene in the entire film. Before watching this, I though it was going to be heavy viewing, but instead it turned out to be thoroughly entertaining, made with a light hand and an easy wit and a lot of humour in it. Go, son, go.
I never saw an original Melvin Van Peebles film but after seeing Baadasssss..I don't know where these films have been throughout my life. A fabulous and unique take on black cinema and culture.
John Ballantine
Super Reviewer
Baadasssss! Quotes
There are no approved quotes yet for this movie.