Babel
(2006)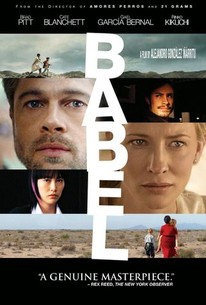 TOMATOMETER
AUDIENCE SCORE
Critic Consensus: In Babel, there are no villains, only victims of fate and circumstance. Director Alejandro Gonzalez Iñarritu weaves four of their woeful stories into this mature and multidimensional film.
Movie Info
The tragic aftermath of human carelessness travels around the world in this multi-narrative drama from filmmaker Alejandro González Iñárritu. Richard (Brad Pitt) and Susan (Cate Blanchett) are a couple from the United States who have traveled to Morocco in Northern Africa on a vacation after the death of one of their children has sent Susan into a deep depression. Richard and Susan's other two children have been left in the care of Amelia (Adriana Barraza), their housekeeper. Amelia is originally from Mexico, and her oldest son is getting married in Tijuana. Unable to find someone who can watch the kids, or to obtain permission to take the day off, Amelia takes the children with her as she travels across the border for the celebration. Around the same time, in Morocco a poor farmer buys a hunting rifle, and he gives it to his sons to scare off the predatory animals that have been thinning out their goat herd. The boys decide to test the weapon's range by shooting at a bus far away; the shot hits Susan in the shoulder, and soon she's bleeding severely, while police are convinced the attack is the work of terrorists. In Japan, Chieko (Rinko Kikuchi) is a teenage deaf-mute whose mother recently committed suicide. This despairing, confused girl experiences such rage and frustration that she causes her volleyball team to lose a match, and later yanks her underwear off and begins exposing herself to boys in a crowded restaurant. Chieko's father then struggles to reach past the emotional distance which separates him and his daughter. Babel earned Alejandro González Iñárritu the prize for Best Director at the 2006 Cannes Film Festival. ~ Mark Deming, Rovi
News & Interviews for Babel
Audience Reviews for Babel
½
There have been many imitators since, and this is hardly the first in its style - the We-Are-All-Connected-After-All Movie - but I particularly liked Babel because for much of it, Inarritu lets the camera and the soundtrack do the talking. The result is an almost dream-like two-plus hours with countless unforgettable scenes, and even when "nothing" is really happening, you still can't take your eyes off it, Masterful film-making.
Daniel Perry
Super Reviewer
High concept, multiple storylines, international cast, and pretty damn good cinematography ... what could go wrong in this heavy handed "message" movie pretty much about the butterfly effect only taken to human perameters? Oh dammit, I've already said it! It never for a second lets go of the idea that they, the fiimmakers, are bringing "truth" to you. Oh really. It does grapple well though with the otherness Americans feel amongst the unwashed foreign contingents.
Kevin M. Williams
Super Reviewer
This is one we have had lying around the house since it came out. (husband bought the DVD but never got around to watching it). Actually got a shock when i put it on and realized the little girl was Elle Fanning, who certainly doesn't look that young these days! (I guess that means we have had this movie for 6 years!). The only reason I bothered now is I recently saw Mammoth, which was unfavorably compared to this. Well this was certainly better. It follows 3 stories which are all linked in some way. All also have some type of tragedy. The Japanese story did not seem to link in as well as the others with only a very slight connection, but I still really liked it. The Morrocan story is good as well, though I have to say it wouldn't be my idea of a relaxing place to go and work on a strained marriage. I did end up feeling sorry for the parents of the two boys, and the other family who got abused over "owning" the gun. Probably the most relatable story was of Amelia the Mexican nanny. I really did feel sorry for her. This is very nicely filmed and cast are all great (though I still can't stand Brad Pitt - one of the things putting me off watching, I think). If I had one complaint, it is that it drags on quite a bit at the end. I think the last half hour could have been trimmed a bit, which would have given all the endings a bit more impact. Overall a good film, but certainly not a feel-good movie, be warned!
Nicki Marie
Super Reviewer
Babel Quotes
| | |
| --- | --- |
| Richard: | What about you? How many wives do you have? |
| Anwar: | I can only afford one. |
| | |
| --- | --- |
| Yussef: | I killed the American, I was the only one who shot at you. They did nothing... nothing. Kill me, but save my brother, he did nothing... nothing. Save my brother... he did nothing. |