Baby Boy
(2001)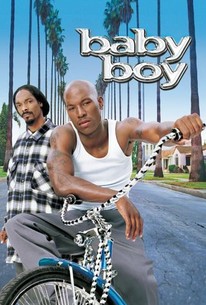 Movie Info
Ten years later, writer and director John Singleton returns to the South Central Los Angeles neighborhoods of his debut film Boyz 'N the Hood (1991). Tyrese Gibson stars as Jody, a jobless 20-year-old African-American man who has fathered two children by two different women, Yvette (Taraji P. Henson) and Peanut (Tamara LaSeon Bass), although he still lives with his 36-year-old mother Juanita (Adrienne-Joi Johnson). As Jody grapples with the increasing pressures of adult responsibility, he also contends with his troubled best friend Sweetpea (Omar Gooding) and new adversary Rodney (Snoop Doggy Dogg). Then there's his mother's live-in boyfriend Marvin (Ving Rhames), a reformed gangsta who agrees with Juanita that her son should grow up, move out, and move on. ~ Karl Williams, Rovi
News & Interviews for Baby Boy
Critic Reviews for Baby Boy
Audience Reviews for Baby Boy
½
I can't really rate this accurately because I still have no idea if it was supposed to be an accurate depiction or mockery of the ghetto life. I'm going to say that it is because that's the best way to watch it. Saying that, it is by far one of the funniest and perfect satires to ever exist. John Singleton takes the stereotypes of the culture and throws them into the real world, making for a hilarious result. The characters are almost all crazy and devoid of any logic. The story is literally about a man juggling his two baby-momas with his home life. I think this was an odd yet bold move for John Singleton because it questions a lot about the stereotypical thug life.
Conner Rainwater
Super Reviewer
½
Though not quite up to the standards of Boyz n the Hood, Baby Boy does take us back to the ghetto, but what Boyz n the Hood set out to define the ghetto life, Baby Boy goes further with an unusual theory... and come around to the point where it teaches young men to learn responsibility. Its a wake up call to the lazy, child-like losers of the world to get out and be a real man and make it on your own. This is probably Tyrese's best performance, he fit the part perfectly. Watch Jody as his life revolve around his excesses and his irresponsibility, with his numerous babies and dealing with their mama's, other women and hustling stolen clothes to earna quick buck with his homie. Things begin to fall apart when his mother brings home a new boyfriend, in the shape of ex-con turned straight Melvin, a giant who tries to keep his cool under Jody's constant criticisms and selfishness. Then after being cauht out numerous times cheating on his current pregnant girlfriend, she dumps him... and dealing with her ex-boyfriend who just got released from gaol and has unfinished business with Jody. Toss in his tired mother, his young son Junior and the numerous other women in his life, Jody needs to learn quick about being a man before he doesn't get the chance and loses everything in his life. Its defintley a John Singleton movie, meaning not another white person in sight. XD Plus its teeming with sexuality to point it does become hilarious but interesting enough... just gotta love it for the entire black style from pimping to hustling and to cursing and insults. A nice flick, nothing really special, just a contemporary look into the life of a young black male in the new millenium.
Singleton has officially lost it.
Baby Boy Quotes
There are no approved quotes yet for this movie.