Baby Geniuses
(1999)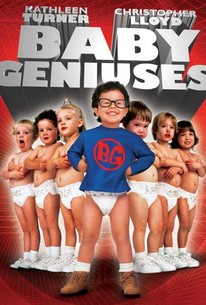 Movie Info
All babies are born knowing the "secrets of the universe" and with the ability to speak with each other. What adults hear as baby-talk is actually sophisticated conversation. But when babies reach two years old and begin to speak our language in full sentences, they "cross over"-- forgetting their secret language and becoming "one of us." In BABY GENIUSES, Dr. Elena Kinder is an intelligent, scheming and wildly ambitious woman. She heads BABYCO, the world's largest corporation that manufactures products for babies. However, what the public does not know is that she also funds a secret research lab, together with her partner in crime, Dr. Heap, devoted solely to cracking the code to this special baby language which she is sure does exist. It will mean enormous profit and power if she is the first to do it. But when Sly, the best and brightest of these baby geniuses, escapes from the secret lab into the outside world, Drs. Kinder and Heap have to get him back before he blows the lid off of their secret forever. Sly organizes the babies in the outside world to invade the secret lab in order to free the baby geniuses and bring down Dr. Kinder's evil empire.
Critic Reviews for Baby Geniuses
Audience Reviews for Baby Geniuses
½
Terrible! The worst of could be in the filmography of Bob Clark. A low point in Christopher Lloyd carrer.
Lucas Martins
Super Reviewer
½
Without a doubt, this is one of the worst movies to have ever been made. To see Bob Clark's sanity decline over the years has been tragic to say the least, but this really puts him in a irreparable spot. When you take into account that he started with Black Christmas, this is even worse. There is nothing more annoying and overdone than talking babies. This has that and a plot revolving around intelligent talking babies. There is nothing, nothing redeeming about this movie. You can't even bask in the terrible nature of it because it is so alienating and humiliating.
Conner Rainwater
Super Reviewer
I think I am the person in the world who may like this more than anyone, because every single person I ask despises this film, but I look at all the good things that could have been changed to make it good! In the end I laughed a few times, but never hated it!
Baby Geniuses Quotes
| | |
| --- | --- |
| Carrie: | Danger! |
| Dan: | What? |
| Robin: | What? |
| Carrie: | Whit has a twin brother called Sly, he's the one that's been here the last two days. |