Baby It's You
(1983)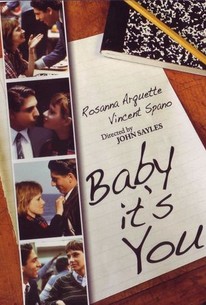 Movie Info
In the early 1960s, two very different New Jersey high schoolers share their first love in this bittersweet romantic drama, an early feature by writer/director John Sayles. Jill Rosen (Rosanna Arquette) is a sweet, overachieving Jewish girl heading for college to become an actor; "Sheik" Capodilupo (Vincent Spano) is a mysterious, confident Italian guy who pushes his way into Jill's already busy life. Sheik successfully woos Jill, and the story follows their ups and downs as teenage romantics. While that introduction is lighter fare than most Sayles material, the film trails off into some unexpected plot developments, providing an original take on the "different sides of the track" genre. Sayles directs the high school scenes with a combination of reminiscence and reality, balancing the excitement of cars and the prom with the heartache, anxiety, and classwork that goes along with it. The movie is injected with a mostly 1960s soundtrack, yet the videocassette lists that "some music has been changed" for home video -- the note apparently refers to four Bruce Springsteen cuts. Matthew Modine and Tracy Pollan appear in small parts, and Robert Downey Jr. also has a tiny role. This was the fiercely independent Sayles' first film to be made with a major studio (Paramount), and he claims it will be his last, as he lost final editing control. ~ Norm Schrager, Rovi
Critic Reviews for Baby It's You
Audience Reviews for Baby It's You
½
Written and directed by John Sayles, "Baby It's You" is on the surface a genuinely heartfelt romance. Like a lot of Sayles' other movies(this is his only studio movie to date), it also works on a political level as it relates to perceptions and class. It is 1967 and Jill Rosen(Rosanna Arquette) is a high school senior in Trenton, New Jersey who is interested in becoming an actress and has auditioned for the lead in the school play. Sheik(Vincent Spano), a new student, asks her out for a date which she at first declines but eventually succumbs to his charm.(I thought Sheik was originally a Rudolph Valentino reference and no doubt he is handsome. I was shocked at the real reason for the nickname which is revealed late in the movie.) He is going in the opposite direction as Jill, rarely attending his own classes and occasionally attending hers. Inside of the cocoon of their high school lives and routines, Jill and Sheik come together but things change as they move out into the wider world and encounter different attitudes and people that have an effect on them. "Baby It's You" starts in a world that still resembles the 1950's in many ways set to a Frank Sinatra soundtrack but ends up in the conflicted 1960's, minus any reference to Vietnam. And to its credit, the movie does end on a truly lovely note.
Baby It's You Quotes
There are no approved quotes yet for this movie.