Babysitter Wanted
(2008)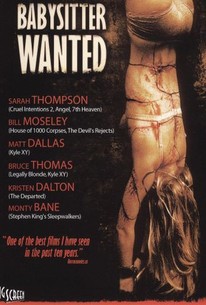 AUDIENCE SCORE
Critic Consensus: No consensus yet.
Movie Info
A devoutly religious college student seeking to escape her roommate and make a little extra cash becomes the target of a disfigured serial killer who stalks his helpless prey from outside of darkened rural windows. Having recently struck out on her own and found, Angie is eager to begin life away from her overbearing Catholic mother and support herself with a suitable job. One day, while passing by a campus bulletin board, Angie notices an ad for a babysitter and contacts the family to see if the position is still open. Before Angie knows it, she's arriving at the Stanton family's scenic farm and being introduced to their adorable little boy. Her job is simple: watch after the sleeping boy until his parents return. But the Stanton's house is enormous, and it isn't long before Angie is at the mercy of her own fears. Suddenly, the serine country silence is broken by the ringing telephone. But who is the anonymous caller on the other end? As if the frightening telephone calls weren't enough to shred Angie's nerves, now there's a mysterious figure lurking around in the darkness outside. There's a killer stalking this small town, and it doesn't take Angie long to realize that the same person who's peering in at her through the window is likely the same creep who's been butchering the local girls for months. As the tension begins to build and the situation turns threatening, Angie realizes that her only hope for survival is to fight back with everything she's got and hope that the local sheriff (Bill Moseley) will get to the farm before it's too late.
Critic Reviews for Babysitter Wanted
Audience Reviews for Babysitter Wanted
½
"Try to be a nice guy and that's the thanks I get!" Babysitter Wanted is quite similar to the movie House of the Devil in many ways (though it preceded it by about a year). Both movies have a similar premise (young woman at a small college taking a rural babysitting job at a spooky locale because she's desperate for money), both try to scare you by slowly building tension (at least, initially) in a large, quiet house, and both have similar sources of evil as the heart of the threat to our unsuspecting heroines. The main difference between the two movies, though (besides a gruesome twist or two), is that House of the Devil is just better. It's more frightening, more interesting, and more memorable. That's not to say that Babysitter Wanted is bad or not worth watching. It's a sinister movie that's shot well, and I didn't find much reason to complain about the actors (though there is a faintly ridiculous monologue almost an hour into the proceedings that would have been better left out). The story is simple and violence and gore are certainly present (though it happens off-screen as often as on). The last 45 minutes or so are quite different from what comes before, so be prepared for a shift in tone. The final act is where the two movies really separate themselves, and that's really where I think House of the Devil completely outshines this. Maybe I would have appreciated Babysitter Wanted more if I hadn't seen a superior,similar movie that I couldn't help comparing it to. Give it a try if you'd like; there are far, far worse horror movies available.
This was funny! Pretty ridiculous movie I tell you. But I must admit it was scary to watched what happened to the victims.
Dead Angel
Super Reviewer
½
A pretty decent horror that starts well but then a big plot change changes everything. It starts out quite creepy a girl alone babysitting at a remote farm believes someone else is there. However there is more to the child than meets the eye! Then it gets quite gory and becomes quite a different film altogether. It's not bad overall but the plot change kinda spoiled it a bit for me.
Babysitter Wanted Quotes
There are no approved quotes yet for this movie.