Back In Time
(2015)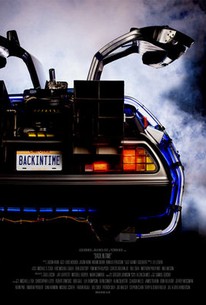 AUDIENCE SCORE
Critic Consensus: No consensus yet.
Movie Info
The documentary film Back in Time is, at its heart, a look at the very real impact the Back to the Future movies have had on our culture. What was once a little idea that spawned a tightly-focused documentary has grown into something truly amazing over two years of filming. Back in Time is a cinematic monument to the vastness of the trilogy's fandom. In addition to the footage and interviews revolving around the time machine itself, the crew found that simply by delving into the impact of the trilogy an epic journey began to unfold before them.
Critic Reviews for Back In Time
Audience Reviews for Back In Time
One point twenty-one gigawatts of fun, Back in Time is an entertaining documentary that looks at the making of Back to the Future and its lasting impact. Several of the filmmakers and cast members are interviewed and discuss how Back to the Future was developed and the effects that it's had on their lives and pop culture. In addition, a number of prominent fan communities (such as DeLorean enthusiasts) are featured and talk about what they've done to show their love of the film series. However, as interesting as this all is the structure's a little loose; sort randomly switching back and forth from to topic to topic without clear transitions. Back in Time has a few problems, but overall it's an enjoyable retrospective of a great film and it's devoted fandom.
Dann Michalski
Super Reviewer
In case any newbies out there haven't worked it out, the title of this documentary refers to the hit song by [i]Huey Lewis and the News[/i] which plays at some point (can't recall) during the smash hit movie 'Back to the Future'. I realise that might be really really obvious to many people out there but hey, believe it or not there are youngsters out there that didn't grow up with these classics (the poor sods) and genuinely don't know. This doc generally covers the entire BttF franchise from production to interviews to the fanbase, all the usual stuff you'd expect to see. So naturally this story begins with how the project came to be, who was involved and the struggles that always seem to accompany these movies. A small vision originally entitled 'Professor Brown Visits the Future' by partners Bob Gale and Robert Zemeckis was the only thing that existed from the 70's. It wasn't until Bob Gale came up with the notion of, if you went back in time to when your parents were in their teens, would you be friends with them? Would you like your father or would he turn out to be the kind of jerk (or jock) you've always despised from your own high school years. Would your mother be the dedicated student she may have claimed to be? What if your mother turned out to be the school slut?? What if both turned out to be complete dorks? With Zemeckis and Gale both being with Columbia at the time due to their previous movie 'Used Cars', which was popular with the studio head Frank Price, their next script was a shoo-in. Its interesting to note (again) how this movie actually became so successful considering certain things. For a start its pointed out that the movie is indeed jammed packed full of exposition from the get-go, basically a rule breaker for any movie. Drowning an audience in a shit load of quickfire scientific jargon that essentially you have to take in otherwise you might miss the plot later on, is a big cardinal sin really. Then you have the fact that Marty McFly is a poor protagonist truth be told. He doesn't really have any goal or wish other than trying to make his folks less nerdy and slutty. He tends to just blunder into things without really pausing and ends up messing with his own timeline and in the end not really learning anything. Admittedly I never really saw it that way before but when you think about it, its true! Then you can look at how this movie might be looked upon in our present PC era. What exactly is Emmett Brown's deal? Why does he hang around with a young boy all the time? Is there anything suspicious going on there? Not to mention the blatant issue of a mother trying to sleep with her own son, or at least give him head in the car park. Again its something that as a kid growing up in the 80's (and clearly the same with the crews and studios) you just didn't see it like that, times were much more easy going and relaxed, not so uptight. It was interesting to discover that after going around every studio in town and being turned down (as what usually happens in these scenarios), Gale and Zemeckis tried their hand with Disney. Basically every studio said time travel flicks don't work, they don't make money, why not try Disney because that's more their kinda thing. Amusingly Disney was [b]the[/b] only studio to notice the incest subplot part straight away and couldn't believe the duo were pitching the idea. In short there was no way in hell Disney would make a movie with something like that going on, yet no other studio picked up on it. So there are basically lots and lots of interviews throughout this doc from all manner of people from Steven Spielberg, Zemeckis, Gale and a few of the movies cast. There is also many interviews with old studio heads like Frank Price of Columbia, [i]Rick & Morty[/i] creator Dan Harmon, Alan Silvestri etc...All of whom touch upon the franchise and their experiences or how it influenced them in some cases. From this we get lots of inside information about various things to do with pre-production, production, post-production etc...and the final product of course, some of it you've probably heard before, some maybe not. For example, it was interesting to find out that, apparently, the sequence in 'Indiana Jones and the Crystal Skull' where Indy survives a nuclear blast inside a lead lined fridge, was actually gonna be the finale sequence for BttF. They do also touch on the infamous recasting of poor old Eric Stolz which is still to this day really intriguing. Alas we still don't get any footage, only production shots we've seen before. Of course this doc encompassing and embracing everything BttF and how its impacted culturally, naturally leads us to the fanbase. Ah yes, the crazy, flamboyant and somewhat annoying fanboys and girls that, in some cases do bizarre things to show their love of the franchise. Firstly as you might expect this means lots of dressing up as Marty and Doc Brown...ugh! Then as the doc touches upon the music of the films and Huey Lewis we get to see a band called 'The Flux Capacitors' who, obviously, cover all of Huey's songs...but badly, and in cosplay (double ugh!!). This part was pretty damn cringeworthy to say the least. Moving on and a large part of the fanbase section, the famous car, the DeLorean DMC-12. Naturally we get to see a bit about the making of the car, how it came about etc...but for the most part we see all the fans that own their own DeLorean and how they've all turned them into their own time machines, because of course they have. Again some of this is pretty cool with very accurate representations, some not so, then you have some who have literally wrecked their car. The main focus being on one collector who has all the cars from the original movie (the DeLorean, the big black 4x4 Toyota, and the terrorist VW wagon) and part III (the DeLorean all kitted out in wild west gear) which makes you wonder how much it all cost. There's also talk about how Gale and others refurbished the original DeLorean from the original film after it was left languishing at Universal Studios. There's also a section on somewhere in the UK where they have recreated the town of Hill Valley and hold massive cosplay events complete with old cars, diners etc...Of course no BttF doc could ever be complete without discussing the hover board phenomenon. Yep you've guessed it, its all about some crackpots trying to build their own with varying degrees of success, but not much. It also touches on the effects used to create the hover board in the sequel, how much of a pain it was to actually achieve, and how thousands of kids wanted one back in the day because they all thought it was real (Zemeckis not helping at the time by hinting they were real). Probably the best parts of the fanbase section focused on a couple who bought a DeLorean and travelled around the world in it raising money for Parkinson's research. Another about a young man with cerebral palsy who lives in Michael J. Foxes hometown, knows some of his family and looks up to Fox for inspiration. Admittedly uplifting but admittedly I'm not really sure what it had to do with the franchise as I'm sure there are many people in the same situation. I guess its because he lives in Fox's hometown and knows some of the family? So again I ask myself, is this the best in depth look at the [i]Back to the Future[/i] franchise? Well seeing as I haven't seen all that many in depth looks at this particular franchise, unlike say...[i]Star Wars[/i], I can't really be sure. What I can say is...this was OK, reasonably engaging and reasonably interesting. Basically the whole thing starts off pretty sweet with many movie bigwigs being interviewed and lots of information about the actual movies being released. But in time the whole thing (I think) goes down in quality as they start to look into the fanbase and cultural impact. It no longer becomes engaging, interest goes out the window because to be honest, I don't care about the fanbase and all the silly things that happen. I'm not really bothered about the history of the DeLorean and what people get up to with them now. I just wanna listen to cast and crew stories, see how they did things on set, maybe behind the scenes footage and bloopers etc...That is really what I'm after when it comes to documentaries about a movie, keep all the fanboy/fanbase/merchandise stuff for its own separate in depth doc. So yeah, this is fine, but nothing great if you ask me.
Phil Hubbs
Super Reviewer
all about fans and very little about the film history. I love the film and consider s modern classic. This film is good for viewing but as a film buff I was puzzled by the lack of franchise history.
Brendan O'Connor
Super Reviewer
Back In Time Quotes
There are no approved quotes yet for this movie.