Back to the Future
(1985)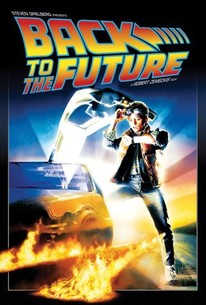 TOMATOMETER
AUDIENCE SCORE
Critic Consensus: Inventive, funny, and breathlessly constructed, Back to the Future is a rousing time-travel adventure with an unforgettable spirit.
Back to the Future Videos
Back to the Future Photos
Movie Info
Contemporary high schooler Marty McFly (Michael J. Fox) doesn't have the most pleasant of lives. Browbeaten by his principal at school, Marty must also endure the acrimonious relationship between his nerdy father (Crispin Glover) and his lovely mother (Lea Thompson), who in turn suffer the bullying of middle-aged jerk Biff (Thomas F. Wilson), Marty's dad's supervisor. The one balm in Marty's life is his friendship with eccentric scientist Doc (Christopher Lloyd), who at present is working on a time machine. Accidentally zapped back into the 1950s, Marty inadvertently interferes with the budding romance of his now-teenaged parents. Our hero must now reunite his parents-to-be, lest he cease to exist in the 1980s. It won't be easy, especially with the loutish Biff, now also a teenager, complicating matters. Beyond its dazzling special effects, the best element of Back to the Future is the performance of Michael J. Fox, who finds himself in the quagmire of surviving the white-bread 1950s with a hip 1980s mindset. Back to the Future cemented the box-office bankability of both Fox and the film's director, Robert Zemeckis, who went on to helm two equally exhilarating sequels. ~ Hal Erickson, Rovi
News & Interviews for Back to the Future
Critic Reviews for Back to the Future
Audience Reviews for Back to the Future
One of the best and clever movies Ive ever seen my third favorite film made. I love how when Marty goes back to the past everything is intertwined into the future for the film. The mayor who was a employee at the diner, the uncle who's in jail who in the past as a baby cries every time he gets taken out of his caged crib, and how all the things are altered in the future, like Crispin Glover who plays Marty's dad who becomes a man when he kicks Biff's ass and how Biff is no longer dominant over George Mcfly's life
Michael Edwards
Super Reviewer
½
A wonderful adventure that relies on a first-rate script full of nuances and details (some of which you only notice after watching the film thirty times), great visual effects, an unforgettable score and an exceptional cast - especially Crispin Glover, who deserved an Oscar.
Carlos Magalhães
Super Reviewer
I love Back to the Future. While having a typical 80s feel to it, which I like, I love how fun, irresistible and original the film is. The special effects are dazzling and the comedy is suitably sly and sophisticated. Helping along the way is a script that is pretty ingenious, the sort of script that has quotable lines and also pokes fun at 1950s icons and lifestyles during the frequent bouts of time travelling. The score by Alan Silvestri elevates the sense of fun to a greater level, the main theme is one of the most memorable themes ever in the history of film, or so I think anyway. Robert Zemekis's direction is very good, and the cinematography, scenery and costumes are also excellent. And I have to mention the acting, Michael J Fox is really appealing in the role of Marty McFly, the role that propelled him to stardom, and Christopher Lloyd is brilliant in one of his most memorable roles(and yes this includes Judge Doom from Who Framed Roger Rabbit? and Professor Plum from Clue). Lea Thompson and Crispin Glover are also great. Overall, brilliant film that is good in so many ways. 4 stars 10-27-07 (Updated)
Bruce Bruce
Super Reviewer
Back to the Future Quotes
| | |
| --- | --- |
| Marty McFly: | Better get used to these bars kid. |
| | |
| --- | --- |
| Marty McFly: | He's a peeping tom! |
| | |
| --- | --- |
| Bum: | Crazy drunk drivers. |
| | |
| --- | --- |
| Dr. Emmett Brown: | Roads? Where we're going we don't need... roads! |