Backtrack
(2016)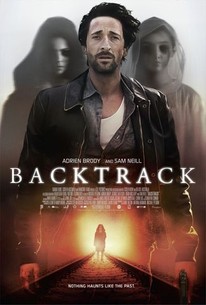 TOMATOMETER
AUDIENCE SCORE
Critic Consensus: Adrien Brody remains a compelling presence, but those contemplating a screening of this muddled paranormal thriller are advised to Backtrack immediately.
Movie Info
Psychologist Peter Bower's life is thrown into turmoil when he discovers that the patients he has been seeing are ghosts. Risking his own sanity, Peter delves into his past to uncover a terrifying secret which only he can put right. Backtrack is a spine-chilling ghost story from the acclaimed writer-director, Michael Petroni.
Critic Reviews for Backtrack
Audience Reviews for Backtrack
This should've been known as Train wreck because this has so many plot holes that frustrate so much. I thought this might be an interesting Australian movie, but this is a recycled dud of ideas. Don't watch this and avoid at all cost. I've been going through backlog of movies and reviewing them all over again with dates but a film like this I cannot waste my time. 26-03-2018.
Brendan O'Connor
Super Reviewer
An unsuspenseful thriller that gives you an interesting plot but executed in a manner which leaves you somewhat disappointed. is it a supernatural thriller or a figment of his imagination? Either way it's a average scare fest.
Film Crazy
Super Reviewer
½
My 2600th review on this here website and it's not even in order, I actually watched this movie after I had already started another that I finished earlier today. I don't plan these things out in advance, clearly, or I'd at least try to come up with something special to 'commemorate' the occasion. One of the first thing I've come to wonder about this movie is why in the world you would cast Adrian Brody, an American, to play an Australian character. Not that I'm suggesting that Adrian Brody is an incapable actor, because he is actually quite good in this movie, even though his post-Oscar career has been...lacking, to say the least. Not that it's been bad or anything...just lacking. And, realistically speaking, if Brody was trying to do an Australian accent then he failed at it. And I say that because this was the same Adrian Brody you've seen before. There was nothing different about his accent nor did he really even pretend to change it. Well, there were a couple of scenes where you could faintly make out an accent, but it's nonexistent for the most part. Maybe Brody is really popular in Australia and that's why he was cast. That's neither here nor there really, cause, even with that, I still thought Brody's performance was solid. The film itself is one of those where you are intrigued to see where the film is headed, but it's also one where you're not really that invested in it. You don't come to care for any of the characters. What the film benefits from is its structure, because, like I said, it makes you want to see why exactly it is that Pete is being haunted by these ghosts after the death of his daughter. The film makes absolutely no effort to explain what exactly to Pete that has caused him to see the ghosts of people he may or may not have known in the past, which is disappointing. That sucks, because the story is essentially that he's seeing these ghosts and you're never actually told how he's actually able to see them despite the fact that he never saw them before the death of his daughter. I know all films have plot holes but this one, to me, actively detracts from the experience. I suppose they were hoping that the mystery behind the appearances of the ghosts and what happened that caused the train to derail in 1987 would distract you from asking how he's able to see them in the first place. I'm sure it'll work for some, but it really bothered me and I wished the movie would've respected my intelligence enough to bother to try to come up with an explanation for it. But it is what it is, I can't control it so I shouldn't let it bother me. Another thing that bothers me is the fact that Sam Neill's ghost, SPOILERS, sorry, is following Pete. What does Neill's ghost have to do with everything that Pete is going through. Talk about the definition of a plot device, he's not actually relevant to the overall narrative, he's only there to get Pete on the path he needs to go. After he does that, you never see his character again. So that sucked, as well. And I thought this film was average, at best. I don't think the film would've been good even without these flaws, but the flaws definitely do a good job at holding it back. Some of the scares are okay. Some of them are jump scares, but they're not as annoying as in other movies, because I do think that there was some good atmosphere to go along with these scares. But, of course, they're not consistent since this is more of a mystery with some hints of horror. So that wasn't much of an issue for me. I don't really know what else to say about this movie however and I feel the review has gone on long enough, so that's it. This is the very definition of an average film, I just cannot overlook all of its flaws. Wouldn't recommend it, but this could've been considerably worse.
Jesse Ortega
Super Reviewer
Backtrack Quotes
There are no approved quotes yet for this movie.