Backwoods
(2008)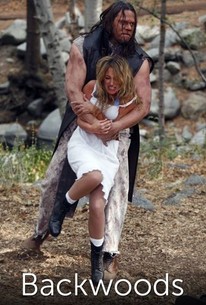 AUDIENCE SCORE
Critic Consensus: No consensus yet.
Movie Info
A team-building wilderness weekend turns into a waking nightmare when a group of adventurous L.A. executives fall prey to a relentless killer. Asked by her boss to join a paintball battle in the Northern California wilderness, gaming engineer Lee (Haylie Duff) eagerly accepts. After all, what better way to show up her cocky male colleagues than to lock them in her sights and squeeze off a round of paint-soaked humility? But these woods aren't as deserted as the boss had anticipated, because lurking amidst the foliage is a violent gang of survivalists who are determined to keep their location secret. When these two worlds collide, the body count starts to rise. Now locked in a vicious battle for survival in the middle of nowhere, the only hope for these white-collar city slickers is to embrace their own killer instincts, and teach their attackers a lesson in ferocity
Critic Reviews for Backwoods
There are no critic reviews yet for Backwoods. Keep checking Rotten Tomatoes for updates!
Audience Reviews for Backwoods
½
I suspect that many people didn't even make it past the first half hour of Backwoods, but thankfully the film does get somewhat better after that. The story begins very simply, with a group of computer geeks going on a corporate retreat in the woods. In typical horror movie fashion, they get lost on the way and ask for directions at a gas station. The man behind the counter, directs them to a closer and even better spot in the middle of nowhere and the games begin. Ultimately, the group stumbles on a fanatical religious cult, who mistake the group for FBI agents, because of course all FBI agents are out of shape, twenty-something, computer geeks, carrying paintball guns. From there it's a fight for survival and a race to escape the backwoods of Northern California. While the film does get better after the first half hour, it still has its problems. For starters, the story is far too unbelievable, no one would take advice from someone at the gas station who looked like that and even rednecks in the middle of nowhere aren't going to mistake a bunch of geeks playing paintball for FBI agents. As with most horror films, the cast is lead by two extremely good looking people, Ryan Merriman and Haylie Duff, who both give unexpected performances. Merriman is know for his fiery and inspirational roles in sports films and he should most definitely stick to those. He was way out of his league here, giving a really ridiculous and unbelievable portrayal. Merriman's done horror before, and even starred in one of the Final Destination movies, but he's clearly not right for this type of film. Haylie Duff on the other hand was terrific! She has really turned into a pretty good actress and is absolutely beautiful. Backwoods would not be my first choice for a horror film festival, even for it's genre it is unbelievable and assumes it's audience will be too dumb to pick up on it. The performances vary and the sequence is somewhat expected, although I did enjoy the ending. The verdict, Backwoods isn't terrible, but it's far from special, I'd only rent it if I liked one of the cast members or was a big fan of the genre.
Todd Smith
Super Reviewer
½
Ok movie that follows the same path as Wrong turn,Timber Falls and hill have eyes.For a movie of this kind there is hardly any gore,but then the movie work well without it given us the standed volience you would expected from this type of movie.Well if you like your horror gorey and volient then forget this but if not give it a try,was'nt a waste of 80mins.
Brian De Guelle
Super Reviewer
Backwoods Quotes
There are no approved quotes yet for this movie.