Backyard Ashes
(2013)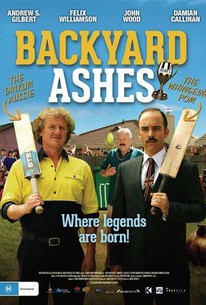 AUDIENCE SCORE
Critic Consensus: No consensus yet.
Movie Info
Dougie Waters loves nothing more than a weekend barbie and cricket match with his mates. But his paradise on earth is destroyed when his best mate and neighbour Norm is forced to leave town and their new boss moves in. The animosity between the two peaks during one fateful backyard cricket match when Dougie hits a ball that accidentally stuns Edward's prize winning cat, Dexter. The cat falls into the roaring BBQ and is instantly incinerated. Dougie's son captures footage of the unfortunate event on camera and the video instantly goes viral! The idea of a backyard cricketing challenge is hatched, with the winner keeping the ashes of the cat. The two teams battle it out in the greatest game of backyard cricket ever for the Backyard Ashes.
Critic Reviews for Backyard Ashes
All Critics (1) | Fresh (1) | Rotten (0)
Backyard Ashes does not pretend to be an intellectual exercise, but it sort of becomes one despite itself. By striving for working-class honesty over hard-sell insight, it achieves both.
Audience Reviews for Backyard Ashes
Finally, a film that recognises the place that produced Mark Taylor, Michael Slater, Geoff Lawson, Cameron Mooney, Wayne Carey, the Mortimer brothers, Steve Elkington, Scobie Breasley and Nathan Sharpe - Wagga Wagga, where the crows fly backwards for no reason! Directed by Mark Grentell and written by Peter Cox, this is just a typical easy going working class Aussie comedy. Backyard Ashes, according to its own director, is not the best movie ever made, but it's certainly the best movie ever made in Wagga Wagga, and the funniest! And it had a budget of only A$300,000, most of which came from individuals and businesses in this small town. But, this movie is so Australian that viewers from other countries will have difficulties following it... maybe some of the British viewers could be excepted, and they would understand it. The story is actually all about mateship and backyard cricket, a game so well adapted for Australian conditions it's a wonder it took so long to see its comic potential. Our hero, Dougie Waters (Andrew S. Gilbert) always takes the game seriously, and his backyard pitch is mowed and rolled before each game! Of course, there is no point having a game without a beer and a BBQ, and Dougie's barbecue is turbocharged. But soon, everything changes with a new neighbour moving in, who happens to be the new factory boss - Edward Lords (Felix Williamson). The bitter sporting rivalry between England and Australia is now spread to backyard cricket. Dougie's team is a cosmopolitan bunch, representing the new Australia: Bin from the sub-continent (Waseem Khan), Taka from Japan (Shingo Usami) and Shep (Jamie Way), the token Kiwi, and Spock (Damian Callinan), the stand-up comedian of the group. If you like Australia, or if you are missing it, check this one out! It is another story about small event that mean a lot to those taking part. It is a little bit rough around the edges, but it has its charm and joy, and a lingering sense of the things that matter to Australians!
Backyard Ashes Quotes
There are no approved quotes yet for this movie.