Bad 25
(2012)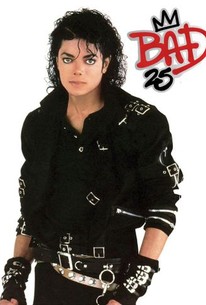 Movie Info
Chronicles the making of Michael Jackson's iconic, record-breaking Bad album and Michael's first world tour as a solo artist. Spike Lee examines Michael Jackson's creative vision for the album that ended up defining an era. Michael's lasting artistic legacy comes to life thanks to rare and never before seen footage and the vivid recollections of Michael's collaborators and confidants, such as Martin Scorsese who directed the 18-minute short film for the single Bad.
Critic Reviews for Bad 25
Audience Reviews for Bad 25
When I watched Spike Lee's documentary "BAD25", I saw a humble, serious, determined artist at work. Lee uses the talking heads approach and well as much as I admired Jackson as a music artist, I didn't find anything special with what Lee was trying to present with this documentary other then to showcase archival footage fans hadn't seen before. For those hoping the picture will talk of Jackson's personal flaws, won't find it in this documentary. Bad25 is about an artist totally in control of his craft. One of the archival footage I did admired was watching Martin Scorsese directing Jackson, Wesley Snipes and dance choreographer Jeffrey Daniel for the music Bad. At times I was hoping Lee would show more and more footage of them but the clips is pretty standard and it's no different from viewing a behind the scenes footage one would find on DVD. Before going on set, Wesley Snipes mentions a few words about the character he portrays. Jackson and Daniels practising the dance moves for BAD late into the night and the well known breakdown of Jackson and his dancers addressing Snipes and his posse like preachers setting the wicked straight. I also admired of Lee showing Jackson's inspirations. From Fred Astaire, Grace Kelly, Bob Fosse, the old gangster pictures of the times, and the Vincent Mineilli film "The Band Wagon". I also admired watching the working relationship between Jackson and Siedah Garrett. Futhermore Tatiana Thumbtzen remembers working with Jackson's in the music vid "The Way You Make Me Feel". BAD25 also provides inteviews from Chris Brown, Mariah Carey (who was impressed with Jackson's acting skills in BAD), Sheryl Crow, Cee Lo Green, Andre Harell, Thelma Schoonmaker, Richard Price, L.A. Reid, Kanye West, Stevie Wonder, and Justin Bieber. Bad25 is good although the album is probably better.I felt "Michael Jackson's This Is It" set the mark. Shamone.
Bad 25 Quotes
There are no approved quotes yet for this movie.