Bad Asses
(2015)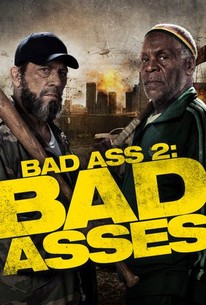 AUDIENCE SCORE
Critic Consensus: No consensus yet.
Movie Info
Bullets fly and bodies drop in this sequel that finds Vietnam Veteran Frank Vega (Danny Trejo) training young boxers at an East L.A. community center. Despite doing his best to maintain a peaceful existence in a city overrun by crime, Frank is pulled back into the fray after his top student is murdered. Convinced that the killer still lurks in the city's criminal underbelly, Frank recruits his best friend Bernie (Danny Glover) that they're not too old to mete out a little vigilante justice. Unfortunately their quest for vengeance soon leads them to a powerful criminal who uses his diplomatic immunity to evade justice. Unfortunately for him, diplomatic immunity doesn't quite carry the same protection as a bullet proof vest, and before long Frank and Bernie have their slippery target running scared.
Critic Reviews for Bad Asses
All Critics (2) | Fresh (0) | Rotten (2)
It's not to be taken seriously. It's not to be taken realistically. It's made for fans of Danny Trejo.
Dials down the meme references to plunge ahead as an average DTV actioner, this time teaming star Danny Trejo with Danny Glover, who thankfully doesn't play a character named Doge.
Audience Reviews for Bad Asses
As if the first one weren't silly and implausible enough, this one notches that up while essentially repeating the same story. If there were any attention to detail before, it's entirely gone now -- the plot holes are very distracting. Watching this sort of shitty sequel actually makes me like the original even less.
I found this to be a marginal improvement over the original film. I liked the fact that it didn't focus so much on it being an internet meme, which was basically the first film. It was a 3-minute YouTube video stretched to a 90-minute film. You can imagine how successful it truly was. It had its goofy moments, but overall its reach far exceeded its grasp. And this wasn't an ambitious and experimental film, this was a low-budget action movie. So you can guess how that must've played out. This film, while still having the same nonexistent story, certainly benefits from a fun chemistry between Danny Trejo and Danny Glover. Some of the banter between them is downright awful, but, by and large, they're fun together. The film follows the same formula, someone Frank is close to gets murdered and Frank takes it upon himself to find the people involved and make them pay. Simple and to the point. Unlike the first film, this one doesn't make Danny Trejo look as old as he actually is. They find a way to make him kick a lot of ass without actually having him kick a lot of ass, if that makes sense. It does to me at least. They don't do unnecessary fist fights where Trejo looks old and immobile, so that's an improvement. There's also an instance where the film looks really cheap and low-brow. I think it's gonna be obvious to anyone with 20/20 vision, and that's the chase scene with the helicopter following Frank and Bernie's Bronco through the forest. It's obvious this is stock footage from another, considerably, older film. I'd go as far as to say it was footage from a 90s action film. Just the way it looked gave off that feeling. It's obvious that they didn't have the budget to pull this sequence off on their own. If that was the case, then don't bother writing the sequence in the first place, because they did an awful job at making look like it was actually part of their film and not stock footage. That's my biggest complaint really. The romance subplot is considerably better this time around than it was in the first film. Still not great, but it's much better. At this pace, the series is bound to be good starting with the 4th or 5th film. There's a third movie planned, so I expect that, if this film is any indication, to be average at best. That's why I say it might be good starting with the 4th one. I don't see any reason why they can't do these films as long as Danny Trejo is willing and able, the movie practically writes itself. Have someone close to Frank die, Frank finds them and takes revenge for what they did, rinse and repeat. That's all that's needed. Anyone who watches, and enjoys, these films doesn't enjoy them because of their thought-provoking storytelling. They just want to see Trejo kick some ass. And there will always be an audience that wants to see Danny Trejo kick some ass. Like I said, it's a marginal improvement over the first film. It's still goofy and silly, but this isn't exactly a good film either. Only action aficionados need apply, everyone else can wait for Captain America: The Winter Soldier to come out on DVD/Blu-Ray next week.
Jesse Ortega
Super Reviewer
½
There it is, a sequel of our vigilante avenger! Bad Asses is an action film starring Danny Trejo and Danny Glover, written and directed by Craig Moss. Nothing is changed, the same formula followed by everybody! The story is starting with Frank, who followed his dream and opened a Community Centre in East Los Angeles where he mentors young boxers, not only in the ring, but in life. Obviously, he wasn't very successful in life training, because his prized student, Manny, gets in over his head with a bad crowd and winds up dead. Two old guys Frank and Bernie team up, finding themselves ensnared in one life threatening predicament after another. Pure action, not always good, though. How to geriatrics can survive when they are forced to use the only weapons they have - their wits and their fists - against a very powerful enemy, like an Argentinian consul - I am not sure! Somehow, they must survive the onslaught of fury that is brought upon them and Frank's new found love from a high powered, politically connected foe, Leandro (Andrew Divoff). For the first movie I gave it 50% rating, because the screenplay and the directing were not up to the scratch! Sadly, this was slightly better but not enough to pass to the positive reviews. Enjoyable a little bit, but soon, everything goes to cliché which makes you having a care factor of "0"!
Bad Asses Quotes
There are no approved quotes yet for this movie.