The Flanagan Boy (Bad Blonde)
(1955)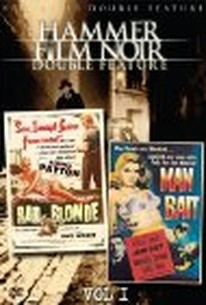 AUDIENCE SCORE
Critic Consensus: No consensus yet.
Movie Info
A scheming blonde seduces a fighter and convinces him to murder her husband, a fight manager.
Critic Reviews for The Flanagan Boy (Bad Blonde)
All Critics (2) | Fresh (0) | Rotten (2)
A corny sex-melodrama, a low-budget enterprise not only in funds but in taste and talent.
A weakly scripted and acted minor film noir about a boxer influenced to go on the wrong path by a femme fatale.
Audience Reviews for The Flanagan Boy (Bad Blonde)
This film came from the Hammer Film Noir Double Feature Collection. I watched this because of Barbara Payto, I'm trying to watch all the movies she started in. Bad Blonde is a great title for a very average movie. It's also the first of the Hammer noirs made in the 1950s I've had a chance to watch. I've always been a fan of Hammer's horror output, so it's a treat to get the opportunity to see what the studio was doing pre-1957. The movie tells the (somewhat unoriginal) story of young up-and-coming boxer who gets mixed up with his promoter's steamy, blonde wife. She bends him to her will and uses him to get what she wants - even if that means committing murder. In a broad, general sense, Bad Blonde kept me entertained throughout. Director Reginald Le Borg keeps things moving at a good pace. The film looks good and the country estate set is a standout. And the movie features a wonderful performance from Sid James. The man carries much of the film on his own. Unfortunately, I can't say the same about some of the rest of the acting. The problems I have with Bad Blonde that make it just barely above average relate almost completely to the two leads. Tony Wright and Barbara Payton, are terribly unconvincing. For Wright, this was his first film, so I can forgive some of his stiffness. But for Payton, Bad Blonde was supposed to something of a return to glory. After only four years of making films, she was already washed-up by 1953. Her story may be a sad one filed with every possible form of self-destruction imaginable, but it doesn't change my opinion of her acting. With the exception of a few memorable moments, she doesn't come across as the smoldering sexpot she's supposed to be. 5 Stars 2-9--13
Bruce Bruce
Super Reviewer
The Flanagan Boy (Bad Blonde) Quotes
There are no approved quotes yet for this movie.