Bad Boys II
(2003)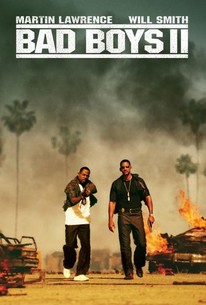 Movie Info
Narcotics detectives Mike Lowrey and Marcus Burnett have been assigned to a high-tech task force investigating the flow of designer ecstasy in Miami. Their inquiries inadvertently lead them to a major conspiracy involving a vicious kingpin, whose ambitions to take over the city's drug trade have ignited a bloody turf war. But Mike and Marcus' friendship and working relationship is threatened when Mike begins to develop feelings for Marcus' sister Syd. Unless they can separate the personal from the professional, Mike and Marcus are in danger of blowing the case and endangering Syd's life in the process.
News & Interviews for Bad Boys II
Critic Reviews for Bad Boys II
Audience Reviews for Bad Boys II
Michael Bay takes his ideas and injects it with any drug or substance you can think of. Bad Boys II is an unnecessary sequel that is filled with nothing but shooting, explosions (with a decent action sequence), strobe-light effects and childish humor. I guess this is what Michael Bay thinks you'll experience when on ecstasy. 3/5
Eugene Bernabe
Super Reviewer
[img]http://images.rottentomatoes.com/images/user/icons/icon13.gif[/img] I dont think it's a coincidence that I had a huge headache after sitting through the loud, noisy, explosion infested and above all idiotic Bad Boys 2 but I can easily conclude why. First of all this film proves everything thats wrong with Hollywood today. Big budgets and massive stars dont make decent popcorn movies. A story and some likable characters would do it for me among most people. But this lowest common denominator action flick is just lightning paced, charmless, witless, thrill free and heartless drivel that's badly directed by Michael Bay and follows the same formula as the first film and I mean doesn't do anything new whatsoever. With even more explosions, bad acting and Michael Bay's typically pointless upskirt shots. It's supposed to be an action film yes, but it lacks any form of power and consequently the film is just completely boring.
Directors Cat
Super Reviewer
After the below average Armageddon and the terrible Pearl Harbor, Michael returns to form with the sequel to his directorial debut. This sequel takes the first film and injects steroids that doubles everything. Doubles the comedy and the action. Will Smith and Martin Lawrence still retain that dynamite chemistry, with better comedy material to boost. The action is bigger, louder, and a lot more explosive. The film's highway chase sequence is one of the best action sequences committed to film. The film is essentially non stop action, but with its slightly bloated time length, it may get tiring for some. If you are not into the hardcore comedy style, then this is not the film for you. The music is also very good, although it does sound similar to Speed at times. This film maybe dumb, but it is a very entertaining dumb movie.
Christopher Heim
Super Reviewer
Bad Boys II Quotes
| | |
| --- | --- |
| Det. Marcus Burnett: | My ass still hurts from what you did to it. |
| | |
| --- | --- |
| Det. Marcus Burnett: | Did you see that?!? |
| Det. Marcus Burnett: | Did you see that? |
| Det. Mike Lowrey: | They throwing cars at us! How am I not seeing that?!? |
| Det. Mike Lowrey: | They throwing cars at us! How am I not seeing that? |
| | |
| --- | --- |
| Det. Mike Lowrey: | It's gonna be chitty chitty bang bang, nigga..That's what its gonna be |
| Det. Mike Lowrey: | You know what it gonna be if I'm there, gonna be Chitty Chitty Bang Bang nigga. |
| | |
| --- | --- |
| Det. Marcus Burnett: | This is a nice fish. Big fuckin eyes, but a nice fuckin fish. |