Bad Day at Black Rock
(1955)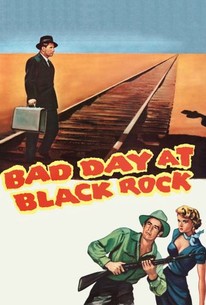 Bad Day at Black Rock Photos
Movie Info
This powerfully tense, fast-paced suspense drama also yields a grim social message about racial prejudice. Spencer Tracy is John J. MacReedy, a one-armed stranger who comes to the tiny town of Black Rock one hot summer day in 1945, the first time the train has stopped there in years. He looks for both a hotel room and a local Japanese farmer named Komoko, but his inquiries are greeted at first with open hostility, then with blunt threats and harassment, and finally with escalating violence. MacReedy soon realizes that he will not be allowed to leave Black Rock; town boss Reno Smith (Robert Ryan), who had Komoko killed because of his hatred of the Japanese, has also marked MacReedy for death. MacReedy must battle town thugs, a treacherous local woman (Anne Francis), and finally Smith himself to stay alive. The entire cast is flawless, especially Ernest Borgnine and Lee Marvin as the mean-spirited town bullies, and the relentlessly paced action never eclipses the film's sobering themes.
Critic Reviews for Bad Day at Black Rock
Audience Reviews for Bad Day at Black Rock
Racial bigotry is at the heart of this small town drama as a stranger comes to town looking for someone who isn't there. Tracy is his usual Rock-of-Gibraltar lead as the returning vet looking for the father of a fellow serviceman, but the supporting cast make this a full meal of anxious tension. There's a fight scene, too, that'll surprise you.
Kevin M. Williams
Super Reviewer
½
A pretty good suspense movie with Tracy, it has it's good moments, but it also has boring moments.
Great vehicle for Spencer Tracy that plays on post WWII anti-Japanese sentiment. Terrific cast includes Tracy, Walter Brennan, Ernest Borgnine and Lee Marvin.
Randy Tippy
Super Reviewer
Bad Day at Black Rock Quotes
| | |
| --- | --- |
| Coley Trimble: | You're a yellow-bellied Jap lover! Am I right or wrong? |
| John J. Macreedy: | You're not only wrong, you're wrong at the top of your voice. |