Bad Dreams
(1988)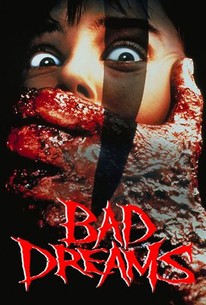 Movie Info
The only survivor of a mass suicide awakens after 13 years in a coma. When she begins to have visions of the cult leader she once followed, members of her therapy group start coming up dead.
Critic Reviews for Bad Dreams
Audience Reviews for Bad Dreams
½
I'm kind of caught here. I somewhat liked it, but came away rather under-whelmed because it was all too familiar and there was something more interesting within this strange horror/thriller premise than what was chalked up. Even with some creative cracks, it should've been better. The story's direction seems a little uneven if it wants to go out to shock (a good amount of blood splatter is spilt), or play its cards for psychological torment. Something about it never entirely fulfils. The performances are the main reason this one doesn't slip off the mind too quick. The beautiful Jennifer Rubin is exceptional in brining out a vulnerable side, which is counter-punched by determination. Alongside her are a very good Bruce Abbott and a towering Richard Lynch brings an uneasy subtly to his menacing character. Harris Yulin, Sy Richardson, Susan Ruttan and an amusingly batty Dean Cameron chip in with durable support. Andrew Fleming's leisured direction is stylish, but has that breakable quality to it. Good use of lighting, colouring and composition in pockets drips of atmosphere. The material is enjoyable (if minimal), as the protagonist tries to overcome the hallucinations that might be because of her unstable state of mind or the simple reality of being haunted by a restless spirit. There's some black humour evident, but the by-the-numbers script goes about things rather seriously. As well it has a fine and compelling soundtrack to boot. The special effects and make-up FX stands-up well enough. A decent little film.
Cassandra Maples
Super Reviewer
Not a bad horror cult-classic of being haunted and hunted by the ghost.
Dean McKenna
Super Reviewer
Bad Dreams Quotes
There are no approved quotes yet for this movie.