Bad Education
(2004)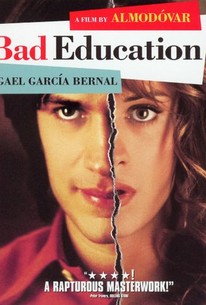 Movie Info
Two children, Ignacio and Enrique, know love, the movies and fear in a religious school at the beginning of the 60's. Father Manolo, director of the school and its professor of literature, is witness to and part of these discoveries. The three are followed through the next few decades, their reunion marking life and death.
Critic Reviews for Bad Education
Audience Reviews for Bad Education
A drag queen convinces a film director to shoot a film about his childhood molestation by a priest. As I'm exploring Almodovar's oeuvre, I'm seeing similar subjects. There is almost always an element of abnormal sexuality, and the several scenes of homosexual sex check that box. Drag queens? Also check. But these are surface elements. The reason I think I'm not diving into Almodovar is that many of his films try to do so much at once. Bad Education is a love story, a noir, a political statement against the clergy's sexual misconduct, and a melodrama, and I think all the "styles" and subject matters collide. What results is such a hodgepodge that I think people are able to attach themselves to elements of the film while ignoring the whole. Overall, Bad Education is for Almodovar fans, and that's about it.
Jim Hunter
Super Reviewer
An amazing mystery/revenge story. I was totally blown away with the complex nature of the film. Almodovar's style really shines in this, due to the fact that he strayed from his usual upbeat tone and really went with something dark. Gael Garcia Bernal was great and made the movie all the more enjoyable, convincing me that his character was much less horrible than he should've been. I really appreciate the bold choices used, if only more filmmakers were this brave. The director's cut is definitely a step up in terms of what shocking content was meant to be seen, it made me fall in love with it even more.
Conner Rainwater
Super Reviewer
½
Murder, mayhem, transvestites and child molesting priests. I wonder where Pedro Almodóvar gets such wild ideas for his stories? Are they autobiographical? Are they plucked from Spanish tabloids? They seem to be coherent presentations of utter chaos. The man is twisted (but brilliant!).
Randy Tippy
Super Reviewer
Bad Education Quotes
| | |
| --- | --- |
| Ignacio Rodriguez: | I think I've just lost my faith at this moment, so I no longer believe in God or hell. As I don't believe in hell I'm not afraid, and without fear I'm capable of anything. |
| | |
| --- | --- |
| Enrique Serrano: | There's nothing less erotic than an actor looking for work. |