Bad Influence
(1990)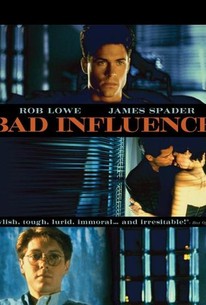 Movie Info
Successful LA marketing analyst Michael Boll (James Spader) seemingly has it all -- except a sense of self-confidence. Enigmatic drifter Alex (Rob Lowe) enters Michael's life and immediately begins to exert a negative influence. As Michael's self-esteem zooms (aided by generous dollops of sex and drugs) he allows himself to be dragooned into a life of crime by the demonic Alex. The "doppelganger" aspects of Bad Influence, and the film's many unexpected twists and turns, echo films of Alfred Hitchcock, especially Strangers on a Train. The film's boldest stroke is to cast the likeable Lowe as the bad guy (albeit a charming one) and the often villainous Spader as the malleable milquetoast.
Critic Reviews for Bad Influence
Audience Reviews for Bad Influence
½
Good thriller. Makes you think twice about making a new friend!
Nicki Marie
Super Reviewer
a down hill point in Rob Lowe,
Bruce Bruce
Super Reviewer
½
Awesome movie. There's a nice buildup of Lowe's character Alex. It makes Alex seem like a great guy after he stands up for Michael, and they have a nice friendship together, until the relationship slowly spirals into an out of control life or death situation. The pacing of this movie is perfect; not too fast and not too slow. There aren't any boring parts either, which I'm very thankful for. Nothing worse than watching a boring movie. Both characters are likable (at least until Lowe's true character is established), and they both have qualities that make them seem like real individuals. The development of Spader's character was great. I like seeing a character evolve into a completely different one by the end of a movie. It was a slow transition from shy/passive office worker to aggressive/violent gunman, but it worked. It was awesome. It was a very cool movie to watch.
Bad Influence Quotes
| | |
| --- | --- |
| Michael Boll: | Son of a bitch |
| Michael Boll: | Son of a bitch. |
| Club Bartender: | Hey watch your fucking mouth, man! |