Bad Lieutenant
(1992)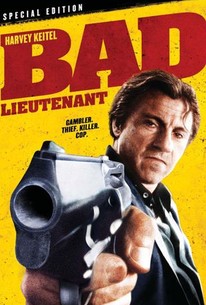 TOMATOMETER
AUDIENCE SCORE
Critic Consensus: Bad Lieutenant will challenge less desensitized viewers with its depiction of police corruption, but Harvey Keitel's committed performance makes it hard to turn away.
Movie Info
If police lieutenant Harvey Keitel's life could get any more sordid, he could probably sell tickets. The least of his vices is gambling, which has gotten him in Dutch with the mob. He abuses his body with drugs and his soul with hookers, and now he's turned to exploiting teenage girls for sex. Keitel is forced to reassess his life while investigating the rape of a nun. Director Abel Ferrara co-wrote the screenplay with Zoe Lund, who as Zoe Tamerlis starred in Ferrara's cult classic Ms. 45. A soundtrack tune by rapper Schoolly D, which was included in the initial release of Bad Lieutenant, featured a sample from Led Zeppelin which was used without permission; the song has since been excised from the soundtrack. ~ Hal Erickson, Rovi
News & Interviews for Bad Lieutenant
Critic Reviews for Bad Lieutenant
Audience Reviews for Bad Lieutenant
½
Bad Lieutenant is an intense drama directed by Abel Ferara and starring Harvey Keitel in an intense performance that is one of his darkest roles of his career. He plays a corrupt cop, and he searches for salvation after years of drug abuse and gambling. Atmospheric and dark, Bad Lieutenant is one of Ferara's finest directorial efforts along with King of New York. What makes this a truly compelling picture is the way that Keitel delivers a powerful performance that is truly disturbing. Ferara's direction here is much more focused than his previous work, and he has matured as a director that truly knows how to create an effective and memorable drama. The story is very good and is an intense portrayal of corruption. Keitel dominates the screen with his presence and he is perfect for the part. Add to that Ferara's raw, gritty direction and you have a stellar picture that resonates with the viewer. Abel Ferara is a master at crafting exploitation films, and with Bad Lieutenant he delivers a film that has genre elements, but added flair to make a somewhat more mainstream picture. The result is a drama that feels real, in your face and above all memorable. Ferara manages to make you feel that you're in the chaos and in turn makes you feel uncomfortable. The film is not perfect, but it is a film that is entertaining, thrilling and is a roller coaster ride in the lead characters life. Brilliantly acted, directed and shot, Bad Lieutenant is a gritty picture that is constantly riveting and thrilling. Abel Ferara has crafted a strong film, and quite possible the strongest film of his career, and he manages to take the elements of his early work, and revamp it to make a much more serious picture, and like King of New York, Bad Lieutenant is Ferara's strongest work.
½
It took me years to finally see this, and, I think that might be a problem. Had I seen this when I was in high school, I would probably had loved it. Since that's not the case, I can say that I appreciate it, and kind of like it, but have no problem calling it an overhyped letdown (to a degree). Trafficking in minimalism, this is a raw, visceral, grim, and gritty character about a tortured police lieutenant who is basically the most corrupt and vile cop ever. He spends most of his time abusing his body with sex, drugs, and booze, abusing his power as a cop, and racking up a sizable gambling debt. He's a slimy, unlikable worm, but all of that changes when he investigates the brutal rape of a nun. Amazed that she can forgive her attackers, he decides that maybe he too can be redeemed. There's really not much of a plot. It's pretty much just scene after scene of debauchry and filth, with heavy amounts of Catholic themes and imagery thrown in with all the awfulness. I do appreciate and admire the film's look at sinfulness and faith, but it all feels rather pointless. Keitel is pretty great though as the titular character. It's a career defining (and very brave) turn, but I think he may have gone a little too off the rails at times, with some of his wailing coming off as laughable as opposed to genuine and moving. The film is at least well shot, atmospheric, and moody. It's just also really really unpleasant, joyless, and tough to endure. As I said, I admire it, but I don't know if I really like it. It's overrated, but in a way, I kind of appreciate the trashiness, if only for the fact that there is a place for it in this messed up world of ours.
Chris Weber
Super Reviewer
½
The Lieutenant: I'm sorry, Lord. I've done so many bad things.  "Gambler. Thief. Junkie. Killer. Cop." Before finally seeing Abel Ferrara's Bad Lieutenant, I knew what to expect. I've seeing the semi-remake from Werner Herzog, which I liked. The subject matter isn't what you'd call cheery. Bad Lieutenant's title is pretty self explanatory. It is about a cop, and a not so good one at that. That doesn't mean he isn't good at his job. It means he is a bad person. He gets himself in deep by gambling. He does a variety of drugs. He drinks. He uses teenage girls for sex. If there's a terrible thing you can think of; odds are The Lieutenant does it. There's really not much plot here. It's all about the man. So based purely on that short synopsis, you should be able to decide whether it is a movie that you could handle.  Although this is rated NC-17, it isn't as graphic as you would think. Today, this would get an R rating. Not that the rating has any basis in what I think of the film, I just thought I would get that out of the way. I was actually surprised by how un-graphic the film was. Sure there's a lot of cussing, and a lot of drug use; but today that is common, so it doesn't really shock. The sexual content is mostly implied, unlike Herzog's film.  This whole film relies on Harvey Keitel's performance as The Lieutenant, and he does a really good job as usual. The scenes where he breaks down are his best. He is powerful in them. Other than that though, there is really nothing noteworthy about Bad Lieutenant. Ferrara's direction is nothing to write home about. There is some good camera work, but that doesn't really elevate the film in my eyes.  I'll give this a mild recommendation purely because of Keitel's powerhouse performance. I didn't really like the movie though. It may suffer in my eyes more than someone who hasn't seen Herzog's film, though. I thought his was amazing; so by comparison, this one just underwhelms me in about every possible way. The only thing better about it, is the lead performance. Keitel is going to out perform Cage obviously. Overall, it isn't a terrible movie. We see what Ferrara's point is with this character study through Keitel's performance. I just wish it would have had something else going for it.
Melvin White
Super Reviewer
Bad Lieutenant Quotes
| | |
| --- | --- |
| The Lieutenant: | What's your name? |
| Julio: | Julio. |
| Paulo: | Paulo. |
| The Lieutenant: | You're coming with me. |
| | |
| --- | --- |
| Lieutenant: | Vampires are lucky, they can feed on others. We gotta eat away at ourselves… |